Unlocking the Power of Story at Tri-C
Filmmaker David Kirkpatrick featured in Oct. 16 program at Eastern Campus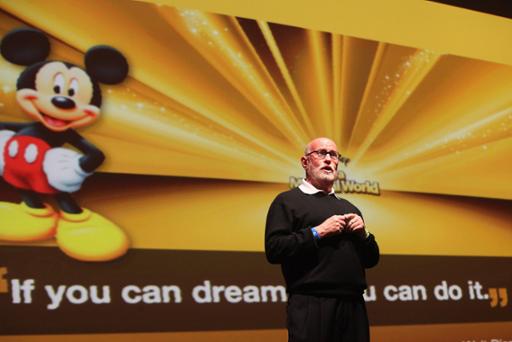 Discover the magic of imagination and storytelling as a filmmaker behind some of Hollywood's most memorable movies visits Cuyahoga Community College (Tri-C®) in October to discuss his craft.
The Power of Story features award-winning producer David Kirkpatrick, who made a career converting novels into film classics while serving as president of Paramount Pictures and production president of Walt Disney Pictures.
The multimedia presentation by Kirkpatrick will take place at 7 p.m. Tuesday, Oct. 16, at Tri-C's Eastern Campus. The free program will be held in The Jack, Joseph and Morton Mandel Humanities Center.
"It is very exciting to be able to bring David Kirkpatrick to Cleveland for this public event," said Matthew Jordan, dean and chair for humanities at Tri-C. "Storytelling is at the heart of the human experience, and Kirkpatrick is a world-class storyteller."
Kirkpatrick's cinematic credits include managing iconic movie franchises such as Indiana Jones, Star Trek, Beverly Hills Cop and the Jack Ryan series. He also oversaw films such as Top Gun, Father of the Bride, Pretty Woman, The Little Mermaid, Ghost and other blockbusters.
He started in the industry young, too, selling his screenplay to Paramount while a Northeast Ohio teen at Hudson High School. Kirkpatrick went on to work on hundreds of films in a career spanning decades.
The co-founder of MIT Center for Future Storytelling now speaks internationally on how stories serve as threads in our cultural tapestry. His latest project involved collaborating on a novel, the dog, set for release in October. Copies of the book will be available for purchase at the event.
For more information on the free program at Tri-C, call 216-987-2605. The presentation is intended for audiences age 14 and older. Eastern Campus is located at 4250 Richmond Road in Highland Hills.
September 27, 2018
John Horton, 216-987-4281 john.horton@tri-c.edu