U.S. Secretary of Education Betsy DeVos Visits Tri-C on Her Back-to-School Tour
Visit to Manufacturing Technology Center highlights College workforce programs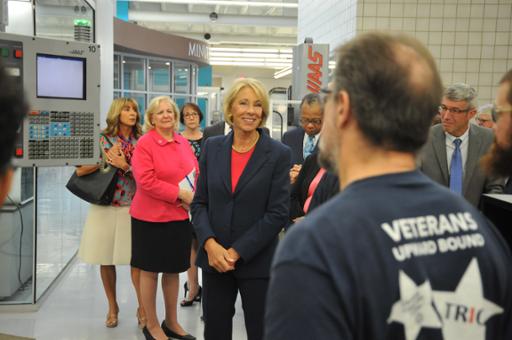 U.S. Secretary of Education Betsy DeVos visited Cuyahoga Community College (Tri-C®) today as part of her annual Back-to-School Tour, which highlights innovative learning environments that prepare students for future careers.
Her tour of Tri-C's Manufacturing Technology Center in Cleveland introduced her to award-winning workforce programs focused on fields such as 3D printing, precision machining and assembly line robotics.
She also explored the College's Mobile Training Unit, a classroom on wheels that delivers workforce training programs to area companies and has drawn national attention.
Tri-C President Alex Johnson told DeVos that the center reflects the College's role as an economic driver in Greater Cleveland and beyond. He noted that Tri-C issued 19,500 workforce credentials last year. In 2013, that number was 900.
DeVos stopped frequently during her tour to chat with students and learn about their long-term goals. Each spoke of how the opportunities offered at Tri-C opened doors to in-demand, high-wage jobs.
She heard a similar message during a roundtable discussion with students, College leaders and community representatives.
Expansion of workforce training programs — particularly involving apprenticeships — represent a key objective for DeVos and the U.S. Department of Education.
Earlier this year, DeVos announced a new Federal Work-Study (FWS) Experiment that enables students to earn work-study benefits while participating in apprenticeships, internships and work-based learning programs.
DeVos listened intently to each speaker at the roundtable while jotting down occasional notes. She emphasized that the reason behind her visit was to find out how the federal government could do more.
"We want to hear how we can do better to augment your efforts," she said.
DeVos ended her Tri-C experience with lunch at the Hospitality Management program's student-run restaurant, Alere. The restaurant at the Jerry Sue Thornton Center prepares students for jobs in Cleveland's growing restaurant scene.
September 18, 2019
John Horton, 216-987-4281 john.horton@tri-c.edu