Two Triceratops Named Baseball All-Americans
Pitcher Brock Begue and catcher/first baseman David Espinal honored by NJCAA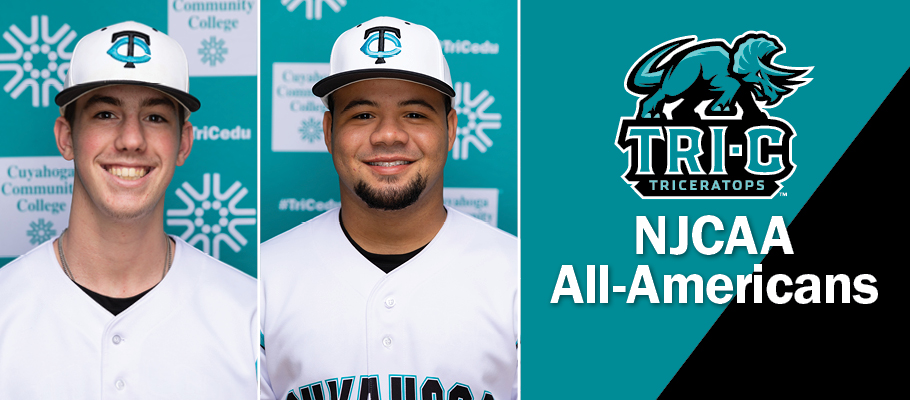 Two of the nation's top NJCAA Division II baseball players this season took the field for Cuyahoga Community College (Tri-C®).
Brock Begue and David Espinal earned spots on the 2019 All-American Team following a campaign that included a deep postseason run for the Triceratops, ending one step short of nationals.
Begue became a two-time All-American after leading the nation in strikeouts, fanning 130 batters in 67 innings. The left-hander earned second-team All-American honors. He was a third-team selection in 2018.
The sophomore went 10-1 with a 1.61 ERA over 13 starts this past season. Earlier this month, the Milwaukee Brewers selected him in the 11th round of the Major League Baseball First-Year Player Draft.
Espinal ranked among the national leaders with 59 RBI and a .412 batting average. The catcher/first baseman also slugged 10 home runs and 14 doubles. The freshman was named a third-team All-American.
Over the past four seasons, Tri-C baseball players have been named All-Americans five times.
Begue, of North Canton, has been taking classes at Tri-C to build toward a career in construction management. Espinal, who is from the Dominican Republic, is working toward an Associate of Arts degree.
The Triceratops posted a 37-18 record on the field while once again qualifying for the district tournament, where they finished second.
The team's official record listed by the NJCAA and conference is 12-43. An April ruling by the NJCAA regarding missing waiver transfers for two players led to Tri-C forfeiting 25 victories in which the two student-athletes had appeared to that point in the season.
The students were deemed eligible immediately upon filing the paperwork and completed the season with the team. The Triceratops won 12 of their last 15 games.
For more information on Tri-C teams, visit www.tri-c.edu/athletics.
June 13, 2019
John Horton, 216-987-4281 john.horton@tri-c.edu