Two Tri-C Softball Players Named All-Americans
Megan Mulhan and Daniele Rivera honored by NJCAA after stellar seasons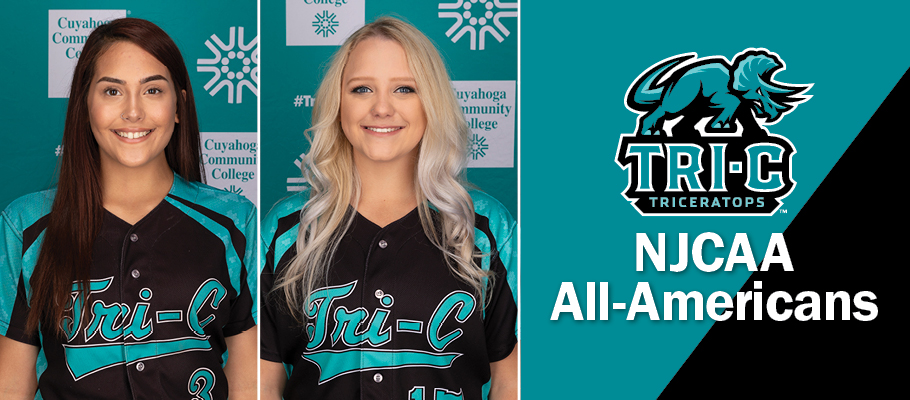 Two Cuyahoga Community College (Tri-C®) softball players earned 2019 NJCAA Division II All-American honors after leading the Triceratops to a district title and the national championship tournament.
Catcher Megan Mulhan — who led the nation with 78 RBI — was named a first-team All-American. She batted .485 while striking out only seven times in 50 games. The freshman also ranked among the national leaders, with 22 doubles.
Shortstop Daniele Rivera received third-team All-American recognition after posting a .585 on-base percentage — the eighth-highest mark in the nation. She batted .472 while drawing 35 walks. The sophomore also pitched in 10 games and recorded four saves.
In May, Rivera was named Ohio Community College Athletic Conference Player of the Year, while Mulhan received all-conference honors.
Both players were also selected to the NJCAA All-Region XII team.
Mulhan, who is from Brunswick, is studying business and human resource management at the College. Rivera, of Brooklyn, is studying criminal justice.
The Triceratops spent much of the year in the national rankings while rolling to a 37-13 record. The team swept through the district tournament to qualify for nationals for the third time in school history.
Tri-C went 1-2 at the national championship, with both narrow losses to teams ranked among the Top 10.
For more information on Tri-C teams, visit www.tri-c.edu/athletics.
June 11, 2019
John Horton, 216-987-4281 john.horton@tri-c.edu