Triceratops Volleyball Enters Postseason Play
Tri-C takes the court Nov. 6 for a play-in match to district tournament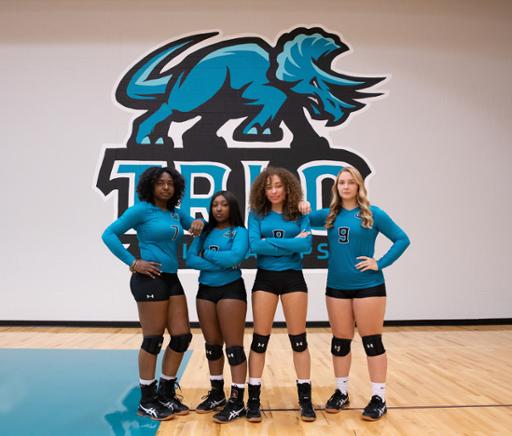 Win or go home: That's the reality of Wednesday's match for the Cuyahoga Community College (Tri-C®) volleyball team.
The Triceratops face Kalamazoo Valley Community College for a berth in the NJCAA Division II Great Lakes District B championship tournament. The match begins at 7 p.m. in the SC4 Fieldhouse at St. Clair County Community College in Port Huron, Michigan.
Tri-C battled to a fourth-place tie in the Ohio Community College Athletic Conference this season with an 8-8 record. Overall, Tri-C finished the season with a 12-19 record after winning six of its final 10 matches.
The freshman-heavy roster gained momentum as the season progressed. Outside hitter Annaiya Ruffin earned two conference Player of the Week awards while leading Tri-C's late-season charge.
Ruffin led the conference in points and kills per set. Fellow first-year teammate Mary O'Reilly — a libero, or defensive specialist — ranked third in the OCCAC in digs.
The Triceratops also received significant contributions throughout the season from its four returning players — sophomores K'Mari Dates, Shanyla Johnson, Chassidy Smedley and Maddy Rice.
Kalamazoo Valley enters Wednesday's match against Tri-C with a record of 22-11. The winner advances to play Muskegon Community College, the #3 seed in the tournament, on Thursday afternoon.
November 04, 2019
John Horton, 216-987-4281 john.horton@tri-c.edu