Triceratops Upset by Lakeland in Regional Final
Tri-C men's basketball team ends season with 25-7 record, multiple OCCAC honors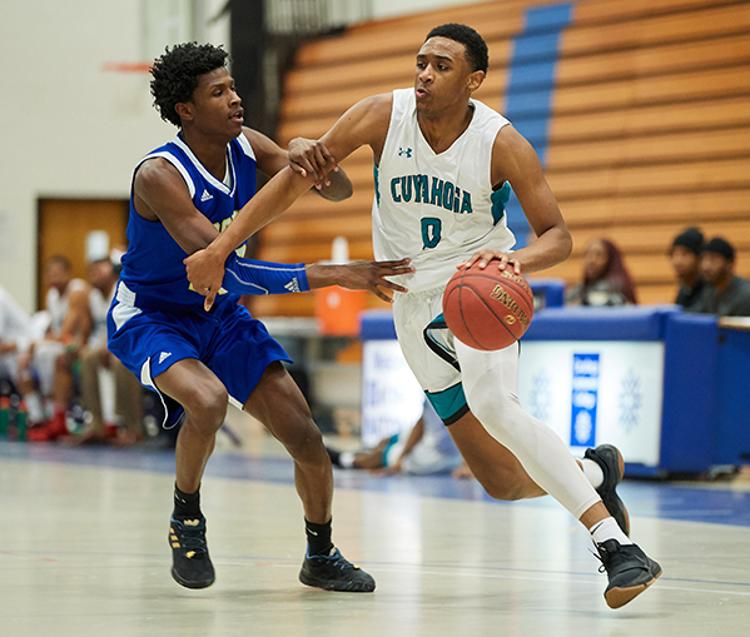 In the end, the Triceratops simply couldn't put the ball in the basket enough to keep their season alive.

A Tri-C men's basketball team beset by offensive inconsistency all season suffered a couple of ill-timed injuries, further hampering their offense. It led to a 76-65 loss to Lakeland Community College in Saturday's NJCAA Region XII, Division II, District 11 Tournament final in Circleville, Ohio.

Top-seeded Tri-C defeated third-seeded Lakeland twice during the regular season; but because fewer than five points decided each game, Triceratops coach Michael Duncan knew a third victory over Lakeland would be a tall order.

And that was before the team lost two of its top scorers to hand injuries in the span of two weeks.

"We knew it was going to be an uphill battle," Duncan said. "We were already without Josawah Bradford, who fractured his hand late in the regular season. Then Delshawn Jackson broke his thumb Friday night."

Jackson's injury turned Friday's 85-79 semifinal victory over Sinclair Community College into something of a pyrrhic victory. Jackson's loss, combined with Bradford's, took a 20-point-per-game bite out of the Triceratops' rotation. 

Freshmen James Graham (12 points), Dyshawn Jackson (18 points) and Kenny Coleman (15 points), along with sophomore Daejohn Bey (13 points), tried to shoulder the scoring burden against Lakeland, but it simply wasn't enough. The remainder of the lineup mustered just seven combined points.

"Lakeland kept double-teaming Graham down low, leaving guys open on the perimeter, and they just didn't knock down their shots," Duncan said. "It's something that plagued us all year, and it finally caught up to us."

Despite the disappointing end, Duncan said it was a successful season overall. Tri-C advanced to the regional final for the fourth straight year and clinched its third straight 20-win season. 

"We lost a stellar group of sophomores last year, so the coaches had to teach the new and returning guys how to compete and win at the college level," Duncan said. "It meant a lot of practice and a lot of watching film, showing them how to learn from their mistakes. But overall, it was a good year. We saw progress from start to finish."

Triceratops win multiple OCCAC awards

The Triceratops didn't reach the NJCAA Division II National Tournament this season, but they also didn't walk away empty-handed.

Duncan and four of his players garnered All-OCCAC and All-District honors:

Duncan is the 2018-2019 OCCAC men's basketball Coach of the Year.
Sophomore James Anderson Jr. was named First-Team All-OCCAC and was runner-up for conference Player of the Year. Anderson was also named to the Division II All-District Team.
Freshman James Graham earned a place on the All-OCCAC Second Team and OCCAC All-Freshman Team, and he joins Anderson on the Division II All-District Team.
Sophomore Josawah Bradford took home an All-OCCAC Honorable Mention.
Freshman Dyshawn Jackson was named to the OCCAC All-Defensive Team.
March 11, 2019
Erik Cassano, 216-987-3577 or erik.cassano@tri-c.edu