Triceratops Men's Basketball Nets Pair of First-Team OCCAC Honors
James Graham is second runner-up for OCCAC Player of the Year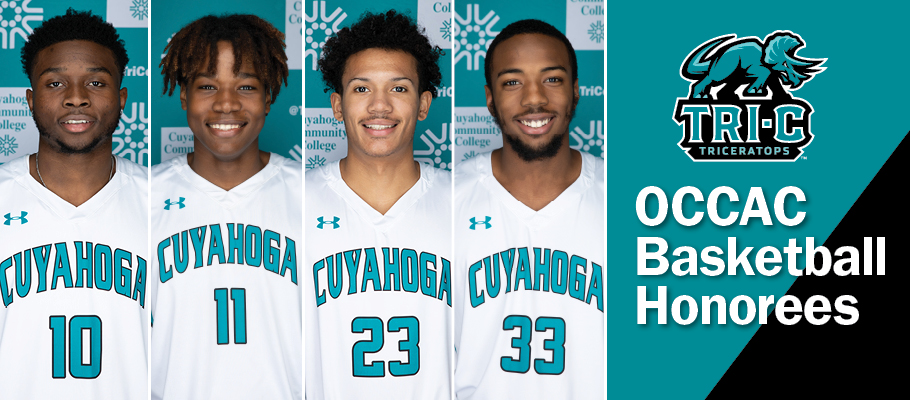 The Tri-C Triceratops are well represented in the OCCAC men's basketball awards for the 2019-2020 season.

Sophomores James Graham and Dorian Crutcher were both named to the OCCAC First Team, with Graham taking home second runner-up honors for OCCAC Player of the Year.

Graham and Crutcher were also named to the Division II All-District Team.

Graham, a forward/center, led the team in scoring at 16.3 points per game and was second in rebounds at 7.3 per game. Crutcher, a wing, was the second-highest scorer on the team at 14.6 points per game.

Sophomore Tyrek Battle-Holley and redshirt sophomore Vincent Smalls were also honored, with Battle-Holley receiving an OCCAC honorable mention and a spot on the OCCAC All-Defensive Team. Smalls received an OCCAC honorable mention.

Battle-Holley, a guard, had a strong all-around season, averaging 10.5 points, 5.8 rebounds and three assists per game. Smalls, a forward, averaged a double-double at 10 points and 10.2 rebounds per game.

The Triceratops' season ended Saturday with a 69-63 loss to Lakeland Community College in the district championship game. Tri-C held a 10-point lead at the half but were ultimately outpaced by the top-seeded Lakers, despite 18 points from Crutcher and 16 from Battle-Holley.

Tri-C, which ended the regular season on a 10-game winning streak, advanced to the district championship game with a 76-73 overtime win against Edison State Community College in the district semifinals on Friday. It was Tri-C's fifth consecutive trip to the district championship game.

"The year started off kind of rocky, but we did a good job of coming together at the right time," said Triceratops head coach Michael Duncan. "As the season went on, our players started to understand the culture around here — that we've been at or near the top of the conference for a while now, and we're going to get everyone's best shot every night."

The Triceratops finished with a 21-9 overall record, 9-3 in the OCCAC.
March 10, 2020
Erik Cassano, 216-987-3577 or erik.cassano@tri-c.edu