Tri-C's Youth Technology Academy Brings Robotics to Cleveland Eighth Graders
Pilot program is challenging students and changing the culture at Nathan Hale School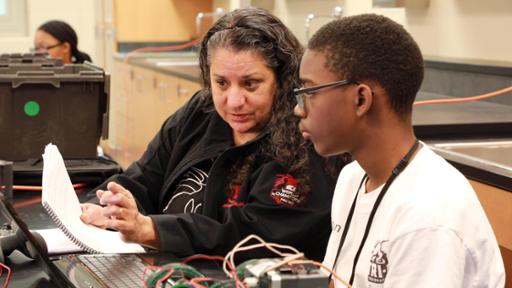 Cuyahoga Community College (Tri-C®) is introducing eighth graders at Cleveland's Nathan Hale School to the future … and it involves robots.
The College's award-winning Youth Technology Academy (YTA) brought its robotics program to the east side school this year. Twice a week during lunch, students meet with YTA instructor Lisa Suarez to learn the basics of building and coding a robot.  
This pilot robotics program at Nathan Hale is part of the Cleveland Metropolitan School District's Closing the Achievement Gap initiative, which is designed to help at-risk students thrive academically.
The initiative's linkage coordinator, Brian Simmons, said he invited Tri-C's YTA program to Nathan Hale to help his students pursue their dreams. This is the first time it has been in a K-8 school. YTA is in 14 Cleveland high schools.
While learning code is the main goal, the robotics program is also intended to help students improve their math scores and attendance. Simmons said it is helping to change the overall culture of the school. 
The school district's news bureau recently produced a video and story on YTA's work at Nathan Hale. (Click here to view the video.)
"I'm very proud of the students," Simmons says in the video. "These students allowed themselves to be challenged. The students allowed themselves to be criticized. And the students took the criticism and applied to the project so they could reach their goals. And that is pretty much what you have to do in life." 
January 15, 2020
John Horton, 216-987-4281 john.horton@tri-c.edu