Tri-C's Student-Run Restaurant Donates Meals to Cleveland Hunger Center
Culinary creations from Alere feed a need at the St. Malachi Parish Back Door Ministry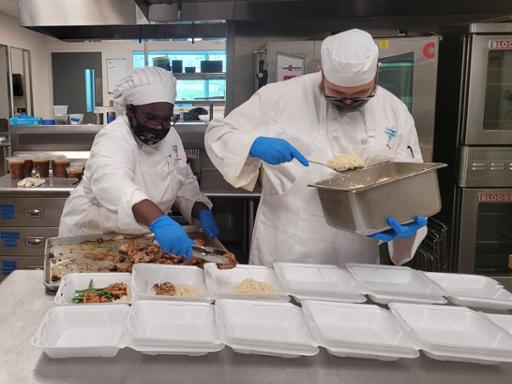 The student-run restaurant at Cuyahoga Community College (Tri-C®) found  new clientele at the St. Malachi Parish hunger center after the COVID-19 outbreak closed its reservation book for fall. 
Delicious dishes cooked in the Alere kitchen as part of an advanced culinary class are boxed and taken to St. Malachi's Back Door Ministry twice a week. Twenty to 25 meals of "contemporary cuisine" are dropped off every Wednesday and Thursday. 
"Serving others is what we teach," said Deanna Manners, an assistant culinary professor at the College's Hospitality Management Center of Excellence. "With these meals, we're taking that lesson to another level and helping our community." 
Alere is designed to give students experience in all aspects of restaurant operation, from cooking over a stovetop to seating and serving patrons. The 12-table eatery usually caters to diners four days a week at the Tri-C's Jerry Sue Thornton Center on East 22nd Street. 
COVID-19, however, closed Alere to the public for fall semester and forced adjustments for the two classes — kitchen operations and dining room operations — that staff the restaurant. 
Paper cutouts of people now occupy seats, where they are served beautifully plated meals prepared and presented by students. Chefs visit the tables, too, offering vivid descriptions of the dishes they made. 
The idea is to replicate all aspects of the restaurant experience for students in the culinary classes, Manners said. 
The only problem? The paper people don't have much of an appetite. So the plated dishes return to the kitchen, where they are packaged for delivery to St. Malachi's always busy Back Door Ministry. 
On a recent day, the menu featured a main dish of cilantro lime chicken and rice with cranberry brie bites as an appetizer and chocolate mousse for dessert. 
"The clientele we serve aren't getting this sort of meal or nutrition anywhere else," said Racquel Jones, coordinator of the Back Door Ministry. "There is a huge need right now in our community, so this means a lot." 
Tri-C culinary student Bre'Anna Page said cooking for those at the shelter feeds her soul. The Euclid resident said she often volunteers at area hunger centers, where she sees the restorative power of a hot meal. 
"Reaching out to others is important," said Page, who expects to graduate from the College in May. "It's a good feeling to know the dishes we're making are going to people who really need them."
September 28, 2020
John Horton, 216-987-4281 john.horton@tri-c.edu