Tri-C's Simulated Scenario Village Earns LEED Certification
Administrative center at training site becomes sixth College building to gain the honor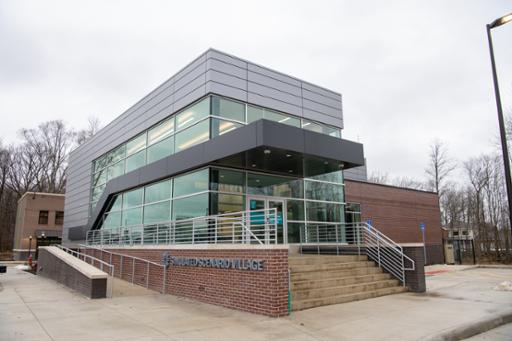 Cuyahoga Community College (Tri-C®) earned a LEED® certification from the United States Green Building Council for the administrative center at Simulated Scenario Village, a training complex for first responders. 
LEED certification is a nationally recognized benchmark for the design, construction and operation of high-performance green buildings. This is the College's sixth building with a LEED designation. 
"Tri-C holds itself to a high standard when it comes to minimizing our environmental footprint," said David November, the College's sustainability manager. "We've made a commitment to be a leader in green design to create a better community and healthier learning environments." 
Simulated Scenario Village opened last year as part of the KeyBank Public Safety Training Center at Western Campus in Parma. The 15,000-square-foot administrative center serves as the centerpiece of the multi-building training site. 
Sustainability highlights include:
A nearly 40% reduction in typical energy use due to LED lighting and other efficiencies
Plumbing fixtures designed to reduce water consumption by 9,400 gallons per year
A stormwater plan that reduces the quantity and improves the quality of runoff
An emphasis on using local and recycled materials during construction 
The College also diverted 82% of construction waste from landfills through sorting and recycling during the 18-month project. Tri-C collaborated with DS Architecture and Infinity Construction. 
Simulated Scenario Village joins a growing list of Tri-C sites awarded LEED certifications since the College created a sustainability plan in 2010. Developing green buildings and grounds serves as a key component of efforts to reduce the College's environmental impact.
January 20, 2021
John Horton, 216-987-4281 john.horton@tri-c.edu