Tri-C's Rising Star Alumni Award: Ramona Jasmine Smith
Graduate won the Toastmasters International World Championship of Public Speaking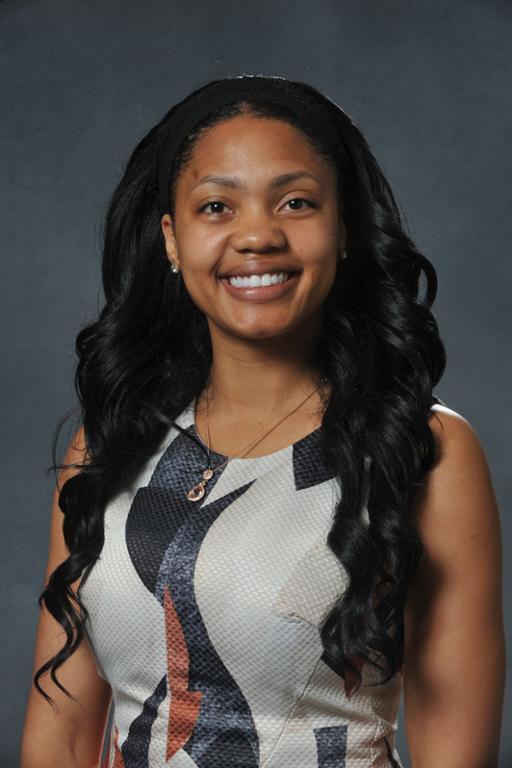 Ramona Jasmine Smith's life makes quite a story. Telling it — and sharing the lessons learned through her struggles — earned the Cuyahoga Community College (Tri-C®) alumna international acclaim.
The 2014 Tri-C graduate won the Toastmasters International World Championship of Public Speaking last year with a speech focused on overcoming challenges.
The name of her title-clinching talk, appropriately enough, was "Still Standing."
The College's Office of Resource Development recently honored Smith with its Rising Star Alumni Award in recognition of her accomplishment. This is the second year the award has been presented.
Smith said that Tri-C played a critical role in her story of perseverance. A product of Cleveland's Collinwood High School, she enrolled at the College in 2007. She passed only three of seven classes that first year.
Four years passed before Smith returned to Tri-C, this time as a new mother. She was determined to make the most of the opportunity. She studied her way to straight A's her first semester back on campus.
"After my son was born, I wanted to get back on the right track," Smith said. "I knew I needed an education to do it. I couldn't reach the heights I wanted to reach without a college education."
She earned an Associate of Arts in just two years before transferring to Baldwin Wallace University, where she graduated magna cum laude. She currently teaches high school in Houston.
Smith began participating in Toastmasters nine years ago. She reached the district level of the organization's annual international competition in 2015 before making her run to the finals in Chicago in 2018.
She topped 80,000 other competitors while becoming only the fifth woman — and second African American woman — to win the championship.
July 12, 2019
John Horton, 216-987-4281 john.horton@tri-c.edu