Tri-C's Metro Campus Center Receives Architecture Design Awards
Project receives two honors from Cleveland chapter of American Institute of Architects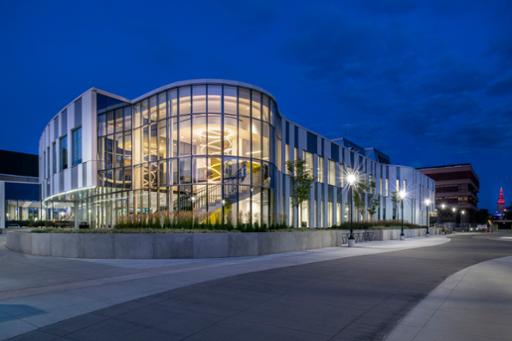 Architects should have planned an award wall while rebuilding the Metropolitan Campus Center at Cuyahoga Community College (Tri-C®).
The project recently received a pair of 2019 Design Awards from the Cleveland chapter of the American Institute of Architects, adding to the accolades received since the building opened earlier this year.
Awards included an Architecture Merit Award for the overall building and a Makers Category honor for the "Light Tornado," an illuminated stainless-steel sculpture that shines in a stairwell and is visible from blocks away.
Tri-C collaborated with Bialosky Cleveland on the expansion of Metro Campus Center, which grew from roughly 70,000 square feet to 106,000 square feet through better utilization of the 2-acre site.
The revamped building serves as the heart of the downtown campus. It houses a food court; a Barnes & Noble bookstore; student government offices; classroom space for High Tech Academy and other college prep programs; and a conference hall for events and meetings.
Earlier this fall, the building received LEED® Gold certification from the U.S. Green Building Council. Metro Campus Center has also drawn praise from The Plain Dealer and Properties magazine.
November 12, 2019
John Horton, 216-987-4281 john.horton@tri-c.edu