Tri-C's Degree in Three Program Claims National Honor
Innovative program recognized as a model for student development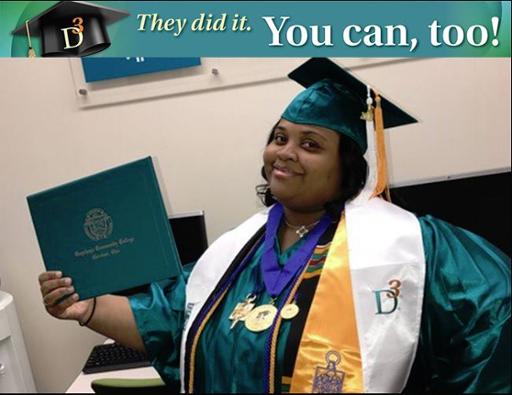 The photographs appear, one after another, on the website for the Degree in Three (D3) program at Cuyahoga Community College (Tri-C®). Each image shows a smiling graduate wearing a teal-colored cap and gown.
Those snapshots of success represent the results that carried the D3 program to an award from the National Council on Student Development (NCSD).
The NCSD recently announced that it is recognizing the Tri-C program with a 2018 Terry O'Banion Shared Journey Exemplary Practice Award. The College was named a gold-level recipient.

Programs selected for an O'Banion Award are deemed outstanding because they are highly innovative, represent best practices in the field and serve as a model of the goals of student development.
Tri-C's D3 program provides an array of specialized services designed to guide students toward graduation. Services include tutoring, academic counseling and financial assistance.
The enhanced support structure clearly helped guide students toward completion. Nearly two out of three first-time participants return to Tri-C for a second year of classes — a retention rate that far exceeds the College average.
Tri-C has incorporated aspects of D3 across the College, given the success of the pilot program offered at the Eastern and Western campuses.
The NCSD will honor the O'Banion Award winners on Oct. 12 during its annual national conference in Texas. The organization provides professional development for higher education student development professionals.
September 11, 2018
John Horton, 216-987-4281 john.horton@tri-c.edu