Tri-C's COVID-19 Response Plan Featured by Ohio Gov. DeWine
College President Alex Johnson among higher education leaders at state press briefing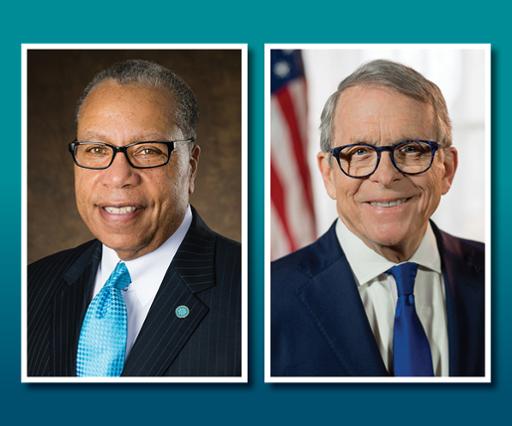 Cuyahoga Community College (Tri-C®) was highlighted Aug. 27 as Ohio Gov. Mike DeWine talked with higher education leaders about efforts to continue teaching and training students while taking precautions due to COVID-19. 
Tri-C President Alex Johnson shared the College's fall semester reopening plans during the governor's press briefing on the coronavirus and the state's ongoing response to the pandemic. Classes at Tri-C began Monday. 
Johnson talked about safety measures taken on campuses — such as mandatory mask-wearing and health assessments — as well as the availability of COVID-19 testing for students, faculty, staff and community members. 
The College moved most classes online this fall to help limit the spread of the virus. About 80% of Tri-C's classes will take place virtually this semester, with the remainder held on campus. 
Most of the in-person classes revolve around workforce programs that require hands-on training, face-to-face instruction and access to specialized equipment. 
Johnson told DeWine that Tri-C has heightened its focus on connecting with students and providing them the necessary resources to thrive in a remote learning environment. This includes computer distribution to bridge digital divides. 
Overall, Johnson said, students are finding ways to succeed regardless of the obstacles created by COVID-19: "They are truly, truly resilient," Johnson said. 
Johnson was one of three presidents from Ohio higher education institutions who spoke with DeWine during the briefing via video conference. The others were Katherine Fell of the University of Findlay and Jim Tressel of Youngstown State University. 
Tri-C also grabbed the spotlight at the conclusion of the briefing, which ended with a showing of a video featuring Tri-C's Vocal Arts Mastery program and The Cleveland Orchestra's Martin Luther King Jr. Celebration Chorus. 
Click here to view the full press briefing. 
This is not the first time Tri-C has taken center stage at the governor's press briefing. In June, DeWine wore a teal tie featuring Stomp the Triceratops, the College's beloved prehistoric mascot.
August 27, 2020
John Horton, 216-987-4281 john.horton@tri-c.edu