Tri-C's Brock Begue Named NJCAA Pitcher of the Week
Honor follows dominating performance with 14 Ks in five innings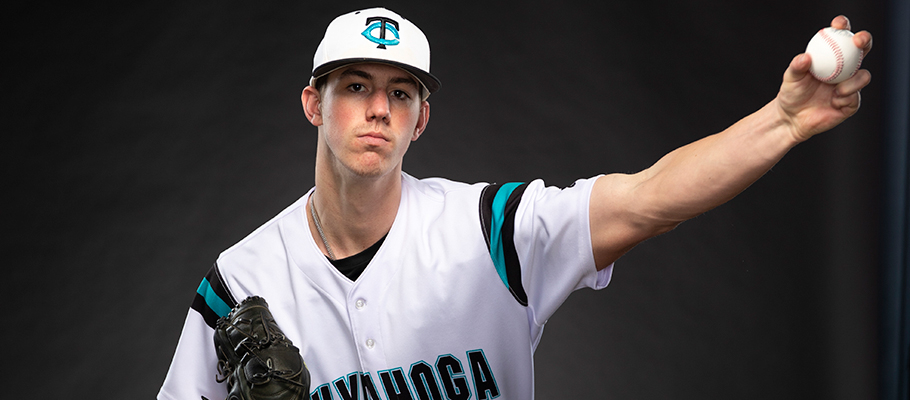 The tweet from NJCAA Baseball begins with a simple question: Who struck out 14 of 18 batters faced in one game?
The answer is Cuyahoga Community College (Tri-C®) pitcher Brock Begue, the latest NJCAA Division II Pitcher of the Week following his dominating performance on the mound against Clark State Community College.
The left-hander threw a one-hit, complete game shutout over Clark State while sending batter after batter back to the dugout. His performance led Tri-C to a 10-0 victory in a game shortened by the five-inning mercy rule.
The performance adds to Begue's already sparkling resume. He leads the nation in strikeouts per nine innings (16.98) to go with a 5-1 record and 2.40 ERA. Opponents are batting only .191 against him this season.
Last year, Begue earned NJCAA All-American honors at Tri-C after posting an 11-1 record, 2.07 ERA and 94 strikeouts in 69.2 innings.
The sophomore from North Canton is taking classes at Tri-C to build toward a career in construction management. He recently committed to continuing his academic and athletic efforts next season at Georgia Gwinnett College.
Tri-C baseball is 20-14 this season and second in the Ohio Community College Athletic Conference standings. The team plays its home games at Western Campus in Parma.
For full team schedules, visit www.tri-c.edu/athletics.
April 18, 2019
John Horton, 216-987-4281 john.horton@tri-c.edu