Tri-C's Alex Johnson on 'Cleveland After COVID-19'
College president pens essay for The Plain Dealer/cleveland.com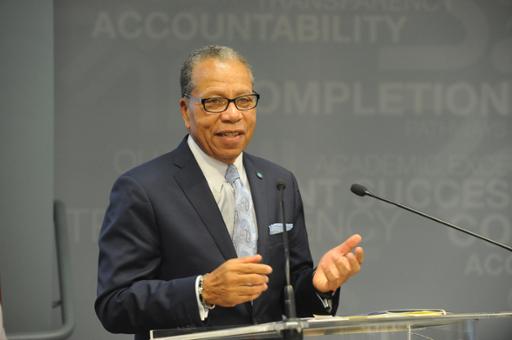 What will Cleveland look like when the city emerges on the other side of the coronavirus outbreak? Cuyahoga Community College (Tri-C®) President Alex Johnson offered his opinion in an essay published in The Plain Dealer and on cleveland.com.
The publication launched its "Cleveland After COVID-19" series of essays April 26 to hear from thought leaders within the Greater Cleveland community.
In his guest column, Johnson notes the uncertainties created by the coronavirus. "But overcoming challenges is what we do best as Clevelanders," he wrote. "We will make it back, and we will be stronger, smarter and more compassionate than ever before."
Changes made in response to the COVID-19 outbreak will pay dividends in the future, Johnson wrote. For instance, Tri-C's newly expanded technological infrastructure and short-term online workforce training will benefit the community for years.
Personal connections have intensified, too, Johnson wrote, as the community rallies to support those in need.
"That's what we do at Tri-C and in Greater Cleveland: We find ways to solve problems and help others," he wrote. "The strengths we build now will carry us forward as we emerge from this outbreak."
Johnson's guest column was one of five appearing on the first day of the series. He joined:
Armond Budish, Cuyahoga County executive
Akram Boutros, president and CEO of the MetroHealth System
Joe Roman, president and CEO of the Greater Cleveland Partnership
Dave Gilbert, CEO of Destination Cleveland and the Greater Cleveland Sports Commission
April 27, 2020
John Horton, 216-987-4281 john.horton@tri-c.edu