Tri-C's Alex Johnson, AACC Leaders Offer Insights to Biden Transition Team
Johnson addressed voting rights and democracy in recent meetings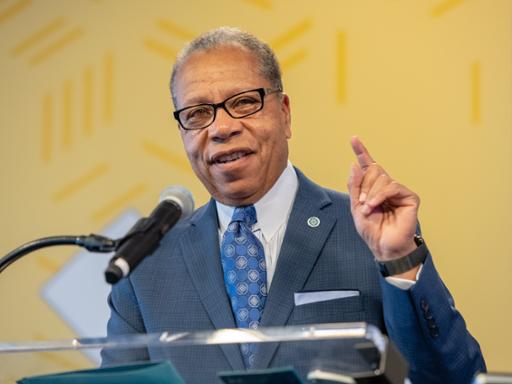 Cuyahoga Community College (Tri-C®) President Alex Johnson joined other higher education leaders in meeting with President-elect Joe Biden's transition team to discuss priorities for two-year schools and their students. 
Representatives from the American Association of Community Colleges (AACC) held three sessions with Biden's team. Johnson is the immediate past chair of the AACC, the primary advocacy organization for the nation's community colleges. 
Each session focused on a specific topic: higher education, homelessness and hunger, and voting rights and democracy. 
Community College Daily reported that Johnson "addressed voting rights and democracy, noting that the privilege needs to be strengthened and secured for low-income communities, communities of color and young Americans, including community college students." 
Johnson spoke of campus efforts to empower newer voters and provide invaluable civic experiences for future leaders. He also suggested strengthening the Voting Rights Act to ensure votes are not suppressed among at-risk groups. 
Specifically, Johnson called for the new administration to incorporate best practices into a Presidential Commission on Democracy and Civic Education to build on nonpartisan election issues, such as the use of college IDs for voting. 
Click here to read the story from Community College Daily.
December 10, 2020
John, 216-987-4281 johnhorton622@gmail.com