Tri-C Works with Fox 8 to 'Stuff the Bus'
College co-sponsors record-breaking drive to collect supplies for local schoolchildren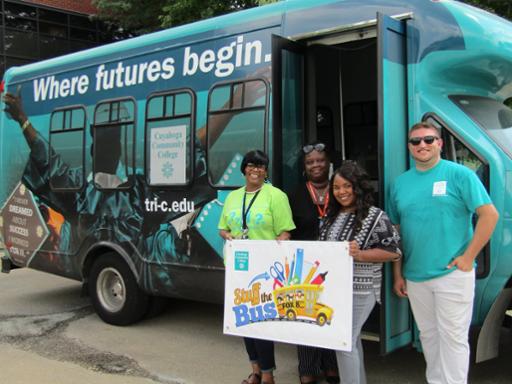 Cuyahoga Community College (Tri-C®) helped Fox 8 "Stuff the Bus" on Tuesday, collecting supplies for thousands of students ready to begin a new year of learning at schools across Cuyahoga County.
The College and Great Clips co-sponsored the drive with Fox 8, which accepted donations at its studio along Dick Goddard Way in Cleveland. This was the station's 12th annual drive.
The generosity of Northeast Ohio residents, businesses and organizations filled a record 14 buses during the day. Volunteers loaded the buses with boxes heavy with pencils, crayons, notebooks and other supplies.
Tri-C's JaNice Marshall said the drive gives students the tools to build a solid academic foundation that can lead to current and future success.
"Without those necessary supplies for them to matriculate from grade to grade, they don't have the opportunity to even think of being ready for college," said Marshall, the College's associate vice president of access and community engagement.
The collected items were taken to the Cleveland Kids in Need Resource Center, which will begin distributing supplies as soon as next week.
Donations can still be made directly to the Cleveland Kids in Need Resource Center. Call 216-361-0840 to schedule an appointment, or mail your check to Cleveland Kids in Need Resource Center, 3631 Perkins Ave., Cleveland, OH 44114.
August 08, 2018
John Horton, 216-987-4281 john.horton@tri-c.edu