Tri-C Women's Basketball Team a Surprise Success
Triceratops gain votes in national rankings after starting season 10-1 and winning holiday tournament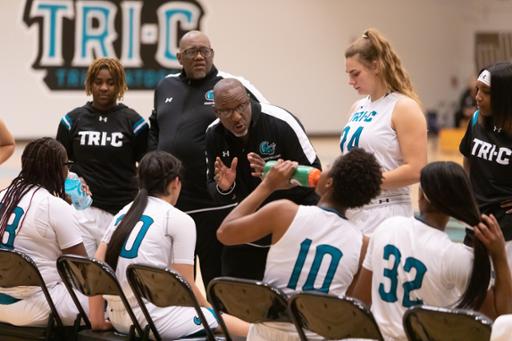 The women's basketball team at Cuyahoga Community College (Tri-C®) enters 2020 with a 10-1 record, a shiny new addition to the trophy case and a spot in the NJCAA Division II national rankings.
Count head coach Derrick Williams among those surprised by those facts about his freshman-filled squad.
"This team came together faster than I ever imagined," said Williams, now in his ninth season coaching Tri-C. "It's more than just talent. This group has built a real camaraderie, and that has created a winning atmosphere."
The Triceratops have already matched their win total from last season, when the team finished 10-17. The record left Tri-C seventh in the Ohio Community College Athletic Conference (OCCAC) standings.
This year's team immediately set a new tone after opening the season with seven consecutive wins. After a Dec. 4 loss, the Triceratops bounced back by winning the Montgomery College Holiday Tournament in Maryland the following week.
Freshman guard Kayla Young of Shaker Heights powered Tri-C to the title in the four-team tournament while averaging 20 points and 12.5 rebounds. The performance led to her being named OCCAC Player of the Week for games played Dec. 9-15.
"Every game, it seems like someone different steps up to get us over the hump," Williams said.
The team's leading scorer has been freshman small forward Christian Massey of Lakewood, who has averaged 13.3 points per game. She also leads the Triceratops with an average of 2.2 assists.
Freshman center Chy'rah Smith-Isom of Toledo is averaging 9.4 points and a team-leading 9.0 rebounds. Sophomore guard Ja'Lynn Starks of Ravenna, meanwhile, adds 9.7 points and 2.1 assists.
Contributions are also coming from sophomore Traci Wright of Hudson and freshmen Maia Harris of Shaker Heights and Diamond Merced of Sarasota, Florida.
"We have seven players who can score at any time," Williams said.
But it's not until Williams starts talking about team defense that he gets really excited. The Triceratops have allowed only 52.7 points per game, which ranks among the national leaders. They gave up only 39 points in the tournament championship game.
Tri-C plays a 3-2 matchup zone that Williams described as "relentless."
The team received votes in the most recent NJCAA Division II rankings but fell just outside the Top 20. The tournament victory led to a bump in the vote total. Tri-C first appeared in the rankings on Dec. 2.
The Triceratops don't take the floor again until the end of winter break, when they travel to Pennsylvania to play the Community College of Beaver County. Their next home game at Eastern Campus in Highland Hills takes place Jan. 15.
For a full schedule or more information on the team, visit www.tri-c.edu/athletics.
December 19, 2019
John Horton, 216-987-4281 john.horton@tri-c.edu