Tri-C Women Hold Their Own at Indoor Track Nationals
Kamry Brown, Artis Sims and distance medley team among highlights for Triceratops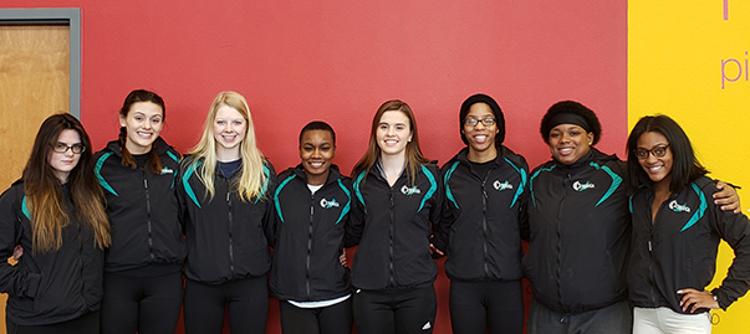 The Cuyahoga Community College women's track and field team completed a strong showing at the NJCAA Indoor Track and Field Championships late last week.
Head coach Donald Cox said the Triceratops' eight national qualifiers put together an admirable performance, with several individual performances exceeding expectations.
"You never really know what to expect against a nationwide field, but I'd say everybody did what they were supposed to do," Cox said. "We had some strong performances."
The highlights:
Sophomore Kamry Brown set a school record of 58.52 seconds in the 400-meter dash. She placed 12th in the event. In February, Brown won the NJCAA Region XII championship in the event.
Sophomore Artis Sims placed 12th in the shot put, with a distance of 12.72 meters, and 13th in the weight throw, with a distance of 14.67 meters. She won the NJCAA Region XII title in both events last month.
The 4,000-meter distance medley team, comprised of freshmen Sierra Taylor, Aja Duvall, Emily Zimmerman and Hannah Heath, placed 15th with a time of 13:53.27.
Sophomore Vanessa Lane qualified for nationals in the high jump, but no-heighted — meaning she did not clear the bar in three consecutive attempts —  earning a disqualification.

"It wasn't her day, and sometimes that happens," Cox said. "She still had a great season."

The indoor track season was hampered by winter storms and bitter cold that canceled meets throughout the Midwest, robbing Tri-C and other teams of valuable practice and competition time. Tri-C lost two meets to the weather.

"In 30 years of coaching, I've never had a season with one track meet canceled, let alone two," Cox said. "It was a tough season for us, and I think we could have done better had the weather been with us a bit more."

The Triceratops begin training for the outdoor track season this week. The first outdoor meet is the Alan Connie Shamrock Invitational, March 14-16, in Myrtle Beach, South Carolina.
March 04, 2019
Erik Cassano, 216-987-3577 or erik.cassano@tri-c.edu