Tri-C Wins National Award for STEM Education
Excellence and Equity in Community College STEM Award honors programs building career pathways for diverse populations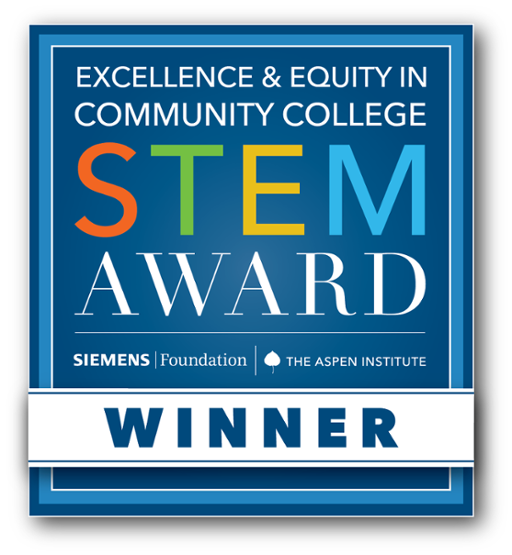 The nursing program at Cuyahoga Community College (Tri-C®) has been named a winner of the Excellence and Equity in Community College STEM Award by the Aspen Institute College Excellence Program and the Siemens Foundation. 
Eight winning programs across the country are receiving this award, which recognizes:
Outstanding preparation and training for high-demand jobs in advanced manufacturing, energy, health care or information technology
Intentional outreach and support of diverse populations that typically are underrepresented in the fields of science, technology, engineering and math — commonly referred to as STEM 
Winning colleges receive $50,000. Half will be allocated for program development. The other half will go toward scholarships for outstanding students, who will be identified as Siemens Technical Scholars. 
Tri-C President Alex Johnson said the College is honored to receive this award from the Aspen Institute and the Siemens Foundation and appreciates its focus on students. 
"Serving those who are under-resourced and underrepresented in higher education stands as a priority for Cuyahoga Community College and its Nursing Center of Excellence," Johnson said. "We strive to remove barriers and open opportunities, creating pathways to higher-income jobs and a stable future for those who need it most." 
Overall, U.S. employment in STEM fields is projected to grow at almost double the rate of non-STEM occupations. More than half of all STEM jobs across the United States require no more than an associate degree and pay wages that average more than $50,000 annually. 
The community colleges honored with the Excellence and Equity in Community College STEM Award are playing a unique role in working to meet this demand. The selection committee identified exemplary programs that deliver exceptional training for jobs requiring strong STEM technical skills, hands-on training and a postsecondary credential below the four-year degree. 
Importantly, these programs are successful in reaching and supporting populations that are underrepresented in STEM fields, such as students of color, low-income students and females. 
"Community college STEM programs are a strong pathway to job security and financial success for many students — whether that means heading right into a great-paying job or getting a more advanced degree," said David Etzwiler, CEO of the Siemens Foundation. "This award recognizes colleges that provide an excellent STEM education and develop talent from every community." 
There are currently more than 800 students enrolled in Tri-C's nursing program. Last year, data showed that 97% of Tri-C nursing graduates were hired as registered nurses within six to nine months after earning their associate degree. 
Student recruitment for the nursing program aligns with Tri-C initiatives centered on access. The College recognizes the unique equity challenges facing its diverse community and continually works to strengthen support systems to help students achieve. 
"Success often begins with the belief in what's possible, particularly for those feeling the weight of socioeconomic determinants," said Wendy Batch-Wilson, Tri-C's dean of nursing. "Supports within our nursing program — including peer mentoring by those who have already completed the journey — help build confidence for underrepresented students to achieve and advance in the profession." 
As part of the award, Tri-C — in partnership with the Aspen Institute — selected seven students to be recognized as Siemens Technical Scholars. Each will receive a scholarship of $3,500 to $4,000 to continue their education or pay student loan debt. 
Tri-C's Siemens Technical Scholars are Sara Alnaasan of North Olmsted; Ariel Austin of Cleveland Heights; Nadirah Brown of Cleveland; Diamond Frizzell of Bedford Heights; Danielle Gibson of Cleveland; James Hatano of Lakewood; and Kelly Jones of South Euclid. 
These diverse scholars will share their stories with their peers to demonstrate the economic opportunity available in STEM careers. 
About the Aspen Institute College Excellence Program: The Aspen Institute College Excellence Program aims to advance higher education practices, policies and leadership that significantly improve student outcomes. The program is part of the Aspen Institute, a global nonprofit organization committed to realizing a free, just and equitable society. 
About the Siemens Foundation: The Siemens Foundation has invested more than $122 million in the United States to advance workforce development and education initiatives in science, technology, engineering and math. The Siemens Foundation's mission is inspired by the culture of innovation, research and continuous learning that is the hallmark of Siemens' companies. Together, the programs at the Siemens Foundation are closing the opportunity gap for young people in the U.S. and igniting and sustaining today's STEM workforce and tomorrow's scientists and engineers. For further information, visit siemens-foundation.org or follow @sfoundation.
September 30, 2020
John Horton, 216-987-4281 john.horton@tri-c.edu