Tri-C Veterans Day Observance Features College Employees Who Served
Virtual program will be shared Nov. 11 to honor those in the military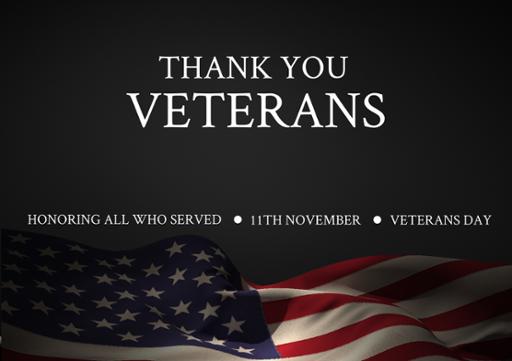 A handful of Cuyahoga Community College (Tri-C®) employees who served in the nation's military will reflect on their years in uniform during a virtual Veterans Day observance. 
A pre-recorded ceremony featuring interviews with five veterans who work at the College will be shared at 11 a.m. Wednesday, Nov. 11. Visit tri-c.edu/veterans to view the presentation. 
Each veteran talked about topics such as why they chose to enlist and what Veterans Day means to them. They also shared memories of their time in the armed forces. The lineup of speakers includes:
Joan Sweeny Dent, U.S. Army (1991-2016). Dent is the veteran services program administrator at Tri-C's Metropolitan Campus.
Alaina Foster, U.S. Air Force (1997-2001). Foster is the veteran services program administrator at Tri-C's Eastern Campus.
Thomas Kemp, U.S. Army (1988-1992). Kemp is the College's executive director of online learning and academic technology.
Matthew Miller, Ohio National Guard (2004-2007). Miller is the manager of veterans programs at Tri-C's Western Campus.
Mick Munoz, U.S. Marine Corps (1988-1992). Munoz is the veteran services program administrator at Tri-C's Westshore Campus and Brunswick University Center. 
The program will also include performances of "Reveille" and "Taps" by acclaimed trumpeter Dominick Farinacci; a Color Guard presentation; and an introduction to the College's Student Veteran of the Year, Olivia Rodriguez. 
"On Veterans Day, it's important that we recognize the dedicated service of the men and women in our armed forces," said Marjorie Morrison, interim executive director of Tri-C's Veterans Initiative. "The safety and security we enjoy as Americans is due to their efforts." 
Tri-C serves thousands of Northeast Ohio veterans every year through its Veterans Initiative. The College has earned 11 consecutive Military Friendly® School designations in recognition of its commitment to veterans and active military students. 
Visit tri-c.edu/veterans for more information on programs and services.
November 03, 2020
John Horton, 216-987-4281 john.horton@tri-c.edu