Tri-C to Host Campus Visits on Presidents Day
Informational sessions for prospective students offered at six locations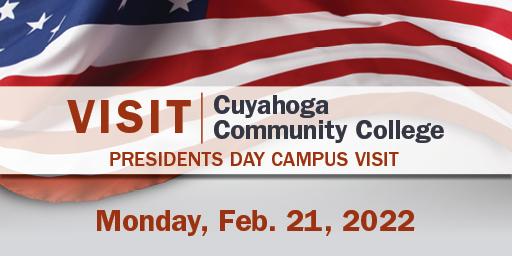 Cuyahoga Community College (Tri-C®) will host a visitation day for prospective students on Presidents Day — Monday, Feb. 21 — at its four campuses plus the Brunswick University Center and Hospitality Management Center.
The day provides potential students with an opportunity to discuss academic programs with faculty and counselors; learn more about enrollment, financial aid and scholarships; discover the variety of student services available; and explore the buildings.
Registration is requested for the program, which includes an informational meeting and campus and classroom tours. Times are as follows:
Brunswick University Center, 3605 Center Road in Brunswick: 10 a.m. and 2 p.m.
Eastern Campus, 4250 Richmond Road in Highland Hills: 10 a.m. and 2 p.m.
Hospitality Management Center, 180 Euclid Ave. in Cleveland: 10 a.m.
Metropolitan Campus, 2900 Community College Ave. in Cleveland: 10 a.m. and 2 p.m.
Western Campus, 11000 Pleasant Valley Road in Parma: 10 a.m. and 2 p.m.
Westshore Campus, 31001 Clemens Road in Westlake: 10 a.m. and 2 p.m.
Visit www.tri-c.edu/visit or call 216-987-6000 for more information or to register at any of the locations. These free events are open to the public, with free parking available.
January 31, 2022
By Anthony Moujaes, 216-987-3068 or anthony.moujaes@tri-c.edu