Tri-C to Honor First Responders at 9/11 Tribute
Ceremony will take place at First Responders Memorial at Western Campus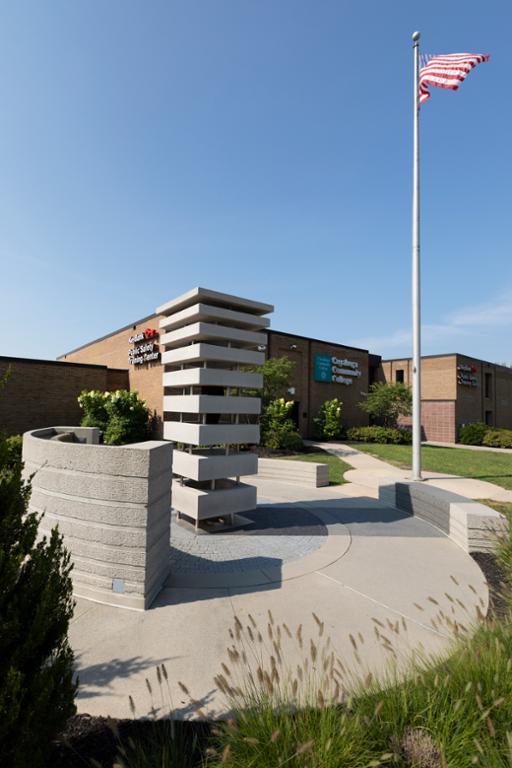 The courage and sacrifice of first responders will be honored by Cuyahoga Community College (Tri-C®) during a ceremony marking the anniversary of the 9/11 terrorist attacks.
The annual First Responders Day of Remembrance and Tribute will take place at 8:30 a.m. Wednesday, Sept. 11, at the First Responders Memorial on Tri-C's Western Campus.
The memorial features a steel beam salvaged from the World Trade Center after the terrorist attacks on Sept. 11, 2001. The sculpture stands outside the KeyBank Public Safety Training Center, where Tri-C trains the police, firefighters and rescue workers of tomorrow.
"We gather at this memorial to honor true heroism," Tri-C President Alex Johnson said. "Our first responders put their own safety on the line every time they put on their uniform. Their service reflects the best of humanity in the most trying of times."
During the ceremony, college officials and representatives from area police and fire departments will reflect on the events of 9/11 and the dedicated work of public safety forces past, present and future.
The observance will also include a moment of silence to remember the lives lost during the 9/11 attacks and honor those who continuously serve and assist us on a daily basis.
For information on the remembrance, contact Jenneffer Lopez at jenneffer.lopez@tri-c.edu or 216-987-0492. The College's KeyBank Public Safety Training Center is located on Western Campus, 11000 Pleasant Valley Drive in Parma.
August 29, 2019
John Horton, 216-987-4281 john.horton@tri-c.edu