Tri-C Quarantine Tips: Working Out With Household Items
Water-filled jug serves as kettlebell substitute in video by Sport and Exercise Studies program manager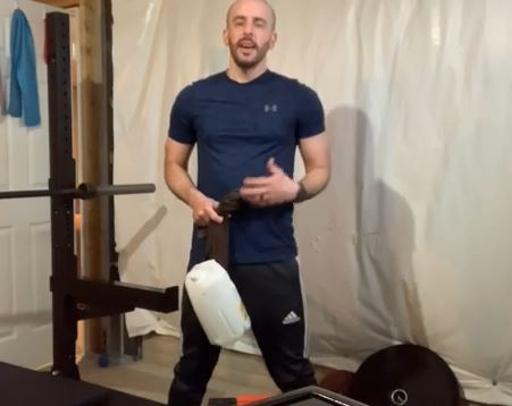 The simplest of household items can help you stay in shape while staying at home.
A water-filled jug serves as the main piece of equipment in an online workout posted by Chris Faciana, manager of the Sport and Exercise Studies program at Cuyahoga Community College (Tri-C®).
The weighted jug essentially serves as a convenient and low-cost substitute for a kettlebell in a series of exercises focused on strength, flexibility and cardiovascular training.
Faciana emphasizes that you don't need "fancy weights" to break a sweat. He demonstrates by using an old milk container for exercises such as a two-armed kettlebell swing, squats, reverse lunges and planks. (Some of the exercises also require a hand towel.)
As an added bonus, Faciana even shows parents how they can do a bench press routine using young children. (His giggling son serves as the live weight.)
Click here to watch the 10-minute YouTube video. Click here to watch Faciana's April 13 appearance on the Fox 8 Morning Show to share his home workout tips.
April 07, 2020
John Horton, 216-987-4281 john.horton@tri-c.edu