'Tri-C Times' Welcomes the Triceratops Era
Spring 2018 edition of award-winning magazine now available online and at select locations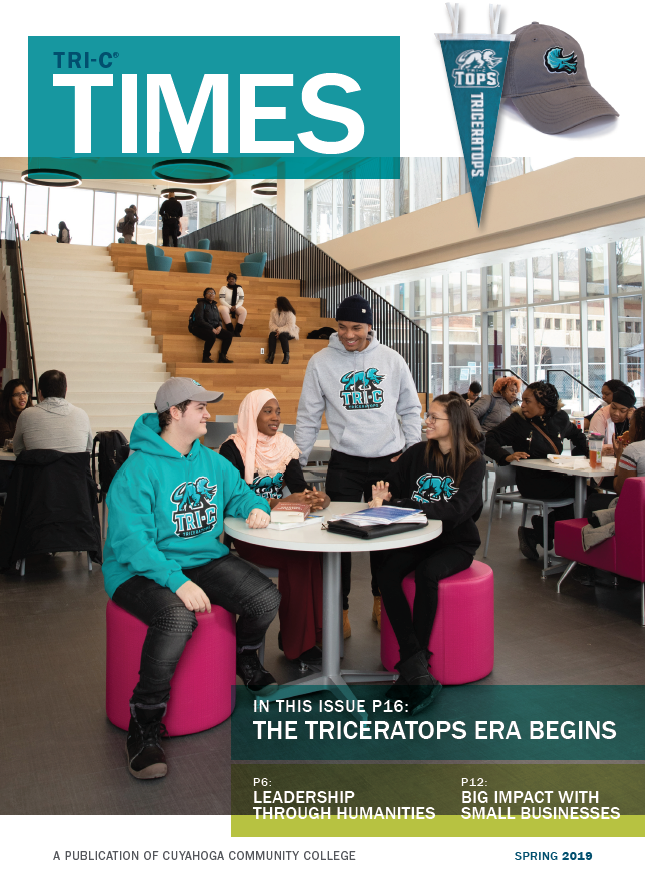 Dinosaur-sized news dominates the newest edition of Tri-C Times.
The latest issue of the College's magazine introduces Triceratops as Tri-C's brand-new mascot. Fun facts, reactions to the announcement and museum-level analysis fill a three-page spread dedicated to the three-horned dinosaur.
The Spring 2018 issue also includes stories on The Jack, Joseph and Morton Mandel Humanities Center; the Goldman Sachs 10,000 Small Businesses program; and the College's new Transportation Innovation Center.
A profile of English professor Mike Piero — a Tri-C alum — is also among the stories highlighting students, staff, programs and alumni of the College.
The 32-page publication features the work of an award-winning cast of writers and photographers. The magazine is produced by the College's Integrated Communications Department.
The College distributes more than 40,000 free copies of Tri-C Times across Northeast Ohio. Look for the magazine available at campus locations as well as Cleveland Public Library and Cuyahoga County Public Library branches.
In addition, it is provided to subscribers of Cleveland Magazine and Smart Business and will be included with the January editions of each publication.
Current and past editions of Tri-C Times are also available online.
March 11, 2019
John Horton, 216-987-4281 john.horton@tri-c.edu