'Tri-C Times' Showcases College's Class of 2019
Summer 2019 edition of magazine now available online and at select locations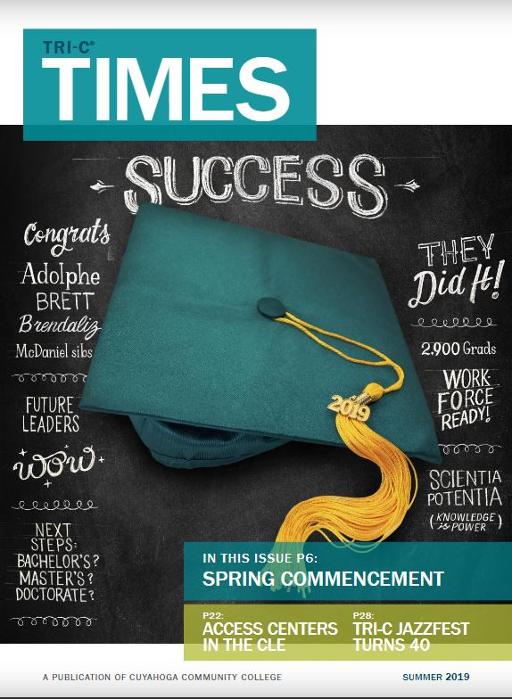 Success.
The word dominates the cover of the newest edition of Tri-C Times. Flip through the pages, and it's easy to see why.
The latest issue of the College's award-winning magazine focuses on graduates who crossed the stage at Spring Commencement and how they intend to use their education and degrees to launch careers.
Featured grads include Adolphe Musanga, Brett Todd, Brendaliz Vargas and the McDaniel siblings.
The Summer 2019 issue also includes a profile on English and journalism professor James Jessen Badal, an author who has chronicled some of Cleveland's darkest mysteries and given voice to their victims.
In addition, look for stories on alum Lauren Phillips, a Cleveland firefighter; the new Tri-C Access Centers opening in neighborhoods gripped by poverty; and a tribute to the 40th annual Tri-C JazzFest.
The 32-page publication features the work of an award-winning cast of writers and photographers. The magazine is produced by the College's Integrated Communications Department.
The College distributes more than 40,000 free copies of Tri-C Times across Northeast Ohio. Look for the magazine available at campus locations as well as Cleveland Public Library and Cuyahoga County Public Library branches.
This edition will also be provided to subscribers of Cleveland Magazine and Smart Business and will be included with the August editions of each publication.
Current and past editions of Tri-C Times are also available online.
July 12, 2019
John Horton, 216-987-4281 john.horton@tri-c.edu