'Tri-C Times' Profiles Alumni Who Keep the Community Running
Summer 2020 edition of magazine now available online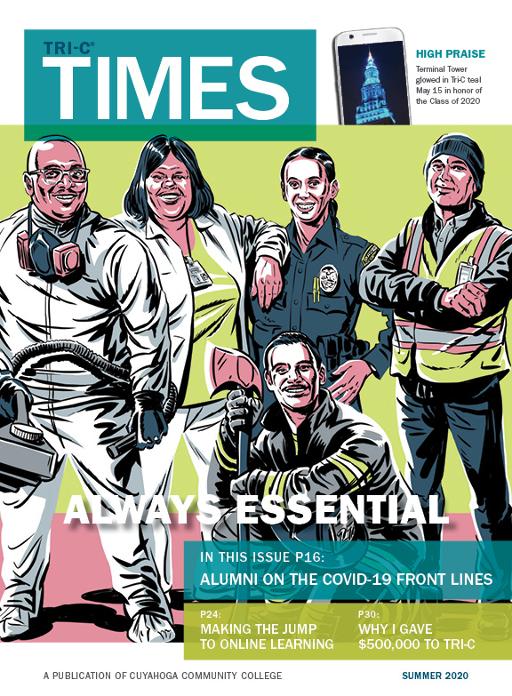 As the COVID-19 outbreak upended daily life, communities turned to "essential workers" — many of whom trained at Cuyahoga Community College (Tri-C®) — for critical services and stability.
The cover story for the Summer 2020 edition of Tri-C Times magazine spotlights five Tri-C graduates who worked on the front lines of the coronavirus crisis.
The newest edition of the magazine also includes several stories on Tri-C's response to the pandemic, including how the Online Learning and Academic Technology department shifted nearly 2,500 classes online when campuses closed to combat the spread of the disease.
A related story shows how the Cuyahoga Community College Foundation worked to provide students with computers so they could overcome the digital divide and transition to remote learning.
The summer Tri-C Times would not be complete without profiles from the College's Class of 2020. Meet 11 recent graduates who intend to build upon their success at Tri-C and make their mark on the world.
The 32-page publication features the work of an award-winning cast of writers and photographers. The magazine is produced by Tri-C's Integrated Communications department.
The College distributes nearly 25,000 free copies of Tri-C Times across Northeast Ohio. Most are provided to subscribers of Cleveland Magazine and Smart Business and will be included with the July editions of each publication.
Current and past editions of Tri-C Times are also available online.
June 24, 2020
John Horton, 216-987-4281 john.horton@tri-c.edu