Tri-C Students Reclaim Playhouse Square Spotlight
College production of 'A View From the Bridge' set for Nov. 1-3 at Ohio Theatre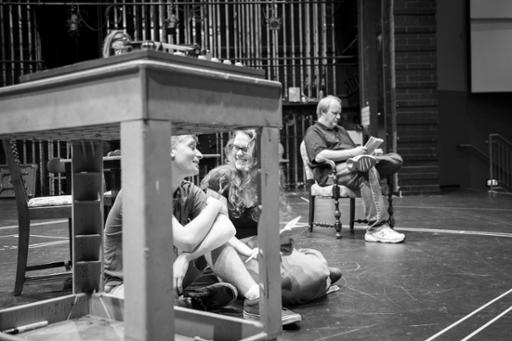 Theater students from Cuyahoga Community College (Tri-C®) will present A View From the Bridge as they retake the stage at the Ohio Theatre at Playhouse Square. 
Performances will take place Nov. 1-3 at the historic downtown theater. Students from multiple Tri-C campuses will perform and work behind the scenes to present the play on one of the nation's grandest stages.
A View From the Bridge begins at 7:30 p.m. each evening. Tickets are $20 ($5 for students) and can be purchased at www.playhousesquare.org or by calling 216-241-6000. The Ohio Theatre is located at 1511 Euclid Ave.
This is the third year students from the College have staged a production at Playhouse Square.
A View From the Bridge by Pulitzer Prize-winning playwright Arthur Miller tells the tale of a Brooklyn longshoreman named Eddie Carbone, whose obsessive affection for his niece leads to a clash with two illegal immigrants taking refuge in his home.
Miller's classic tragedy premiered in 1955. It has since enjoyed consistent revivals on Broadway in addition to adaptations for film, television and even opera.
The play will also be presented at Tri-C's Simon and Rose Mandel Theatre at Eastern Campus, with preview performances scheduled for 7:30 p.m. Oct. 25-27 and 10:30 a.m. Oct. 25. Admission is free. 
For more information on the preview performances, call 216-987-4947. Eastern Campus is located at 4250 Richmond Road in Highland Hills.
October 11, 2018
John Horton, 216-987-4281 john.horton@tri-c.edu