Tri-C Students Qualify for Competition Featuring Top Hardscape Installers
Jake Barber and Drew Krueger headed to North American championship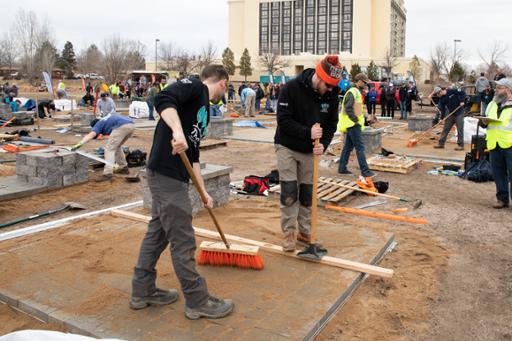 Two landscape technology students at Cuyahoga Community College (Tri-C®) will test their skills against top hardscape installation professionals from three countries during a competition Oct. 17-18.
Tri-C's Jake Barber and Drew Krueger will compete at the 2019 Hardscape North America Installer Championship in Louisville, Kentucky. They qualified after winning this year's hardscape event at the National Collegiate Landscape Competition.
The championship tests the skills of hardscape contractors from the United States, Canada and Mexico. Up to 24 teams will have their understanding of industry best practices and guidelines tested in a race against the clock and other top installers.
The event, now in its seventh year, is sponsored by the Interlocking Concrete Pavement Institute.
Barber and Krueger are working toward Associate of Applied Science degrees in Tri-C's Plant Science and Landscape Technology program, which is based at Eastern Campus in Highland Hills.
Tri-C's program ranks as a national leader in training students for careers in landscape design and construction; garden center or nursery management; and other horticulture fields.
Over the past six years, the College has posted a handful of Top 5 finishes at the collegiate competition. This year's team finished third in the nation — matching its best performance in the field of two- and four-year schools.
Barber and Krueger played key roles in the College's success. Aside from teaming to win the hardscape event, they both placed among the top overall competitors. Krueger finished sixth and Barber 21st out of more than 800 students.
October 14, 2019
John Horton, 216-987-4281 john.horton@tri-c.edu