Tri-C Students Discuss 2020 Presidential Election With Peers in the Netherlands
Classes more than 4,000 miles apart make an international connection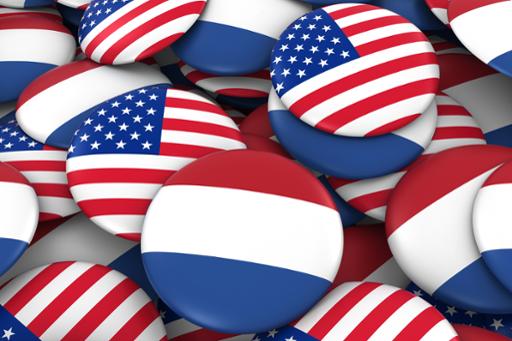 The eyes of the world fell upon the United States as results trickled in during the 2020 presidential election. A digital media writing class at Cuyahoga Community College      (Tri-C®) knows this firsthand. 
The Tri-C class watched the election unfold via video with students from Landstede MBO, a college 4,000 miles away in the Netherlands. The groups spent hours together hanging on updates and discussing results. 
The experience capped a month of international collaboration between the classes. The dialogue began after Pieter Jansen, a media professor at Landstede's Zwolle campus, reached out to Tri-C's John Kerezy and proposed the project. 
The two quickly connected their classes after a few email exchanges. Kerezy, an associate professor of media and journalism studies, is co-teaching a digital media writing class at Western Campus this semester with instructional specialist Sarah Szweda. 
Students from the two colleges produced videos in October introducing themselves and their communities to their counterparts. Email exchanges between the students continued throughout the month. 
A list of election issues guided the conversations leading up to the election, with students selecting topics of interest — such as social justice and COVID-19 — and breaking into subgroups. 
Tri-C student Bonnie Malue used the opportunity to interview Landstede students for a feature story she wrote on how the coronavirus is impacting college students in the Netherlands and elsewhere. 
Discussions on election night covered a wide range of topics, including marketing and consumer culture; differences in higher education; the power of social media; and how each nation views the other.
"There were also discussions surrounding how the media on both sides of the pond were covering the elections," Szweda said.
Tri-C student Aymia Browder said she learned how different voting is in the Netherlands, including how the country ended up changing from a computer-based system to pen-and-paper due to worries about hacking.
"The experience was amazing," Browder said of working with the Landstede students. "I am thrilled to have had the opportunity to meet them. The entire event was exciting and interesting." 
It was just as valuable for Landstede, Jansen said. He called the collaboration "education at its finest," with students eager to connect with each other to learn about the world.
"I am absolutely sure that 20 years from now, they'll remember election night 2020 — at home in their sleeping bag on the couch, during a crazy global pandemic, talking to people on the other side of the globe as if they were just in the next room," Jansen said.  
Jansen and Kerezy mailed packages of items from their colleges to each other, and the two plan to stay in contact for future projects.
November 13, 2020
John Horton, 216-987-4281 john.horton@tri-c.edu