Tri-C Students Are "Gaming the System"
Tri-C's Game Design certificate program offers students a diverse skill set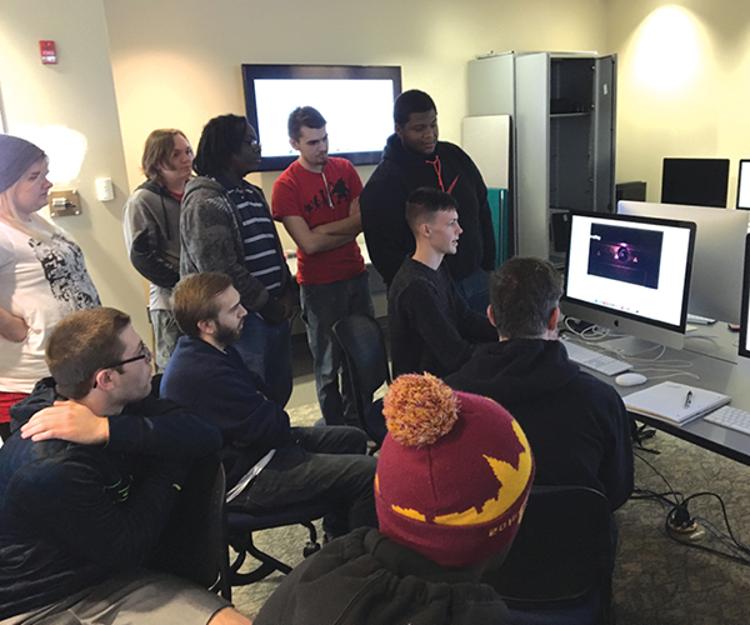 As an undergrad, Bill Whetsel was a web developer who never turned down a job. Even if he had no idea what he would be doing, the journey was part of the challenge and fun.

Now Whetsel, an assistant professor in Visual Communication and Design at Cuyahoga Community College, brings that same sense of curiosity and enthusiasm to the College's Game Design certificate program. For students pursuing this credential, curiosity is a must.

"In our program, a successful student is someone who appreciates interdisciplinary study and emerging technologies; someone who is curious and creative," Whetsel said.

The words "game design" conjure a certain image – perhaps virtual reality (VR) goggles, first-person shooter games and massive computer arrays in dark rooms. But a chasm separates gaming from designing games. Those studying game design combine emotional and analytical thinking in an exercise of self-expression.

A good game designer is part hardcore developer and part artist, Whetsel said. Through world-building, character development and storytelling — and by deploying the skills it takes to execute all of that in a 2D or 3D environment — they create an experience that connects the designer with the end user.

Those skills translate to a wide variety of job opportunities.

Whetsel discussed an insurance company's use of virtual reality to help representatives assess car crash scenes. Instructors in Tri-C's Public Safety Center of Excellence use VR to teach cadets how to handle volatile real-world scenarios.

"You're going to learn how to make compelling, interactive designs, and that has value in non-entertainment spaces," Whetsel said.

When Whetsel first pitched the Game Design program in the early 2000s, it was given a thumbs down. A few years later, video games entered the mainstream.

Students were earning college scholarships for gaming prowess. New consoles were introduced. National and international tournaments offered big purses. Gaming was suddenly legit.

Tri-C had the constituent courses to offer a game design certificate; they just needed to be brought together in a curriculum. On his second pitch, about 10 years ago, Whetsel got the green light. 

"We couldn't have been any earlier than we were," he said.

Fast forward to today, and game design technology can be seen just about everywhere. Your phone uses it. Realtors create virtual home walk-throughs with it. Doctors use it to help treat post-traumatic stress disorder.

Tri-C's Game Design program remains among the few of its kind in Northeast Ohio. Similar programs tend to focus either on the developer side or on the fine arts side, Whetsel said. Tri-C's program marries both — and that, according to Whetsel, is its greatest strength.

"I don't want people to think they have to be a developer or an artist," he said. "They are going to be somewhere on that continuum. They are going to find their sweet spot."
This story can also be found in the Summer 2021 edition of Tri-C Times.
June 15, 2021
Jarrod Zickefoose, 216-987-4750 jarrod.zickefoose@tri-c.edu