Tri-C Student Named to National Advisory Board Focused on Student Voting
Sebastian Canales takes key role with Students Learn Students Vote Coalition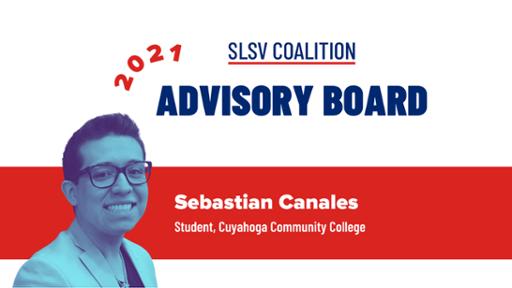 A Cuyahoga Community College (Tri-C®) student will continue his nationally recognized work on election participation with the Students Learn Students Vote Coalition. 
Sebastian Canales has been selected to serve on the 2021 Advisory Board for the coalition, a nonpartisan network dedicated to increasing college student voter participation in the United States. 
The 15-member board includes students and faculty members from campuses across the country. They will look to build on efforts that led to historic highs in young voter turnout during 2020 elections. 
"The 2021 Advisory Board and Executive Committee will help us continue this work as we move closer to a more equitable democracy," said Clarissa Unger, director of the coalition. 
Motivating students to vote is woven into the college experience at Tri-C. Aside from being a partner in the coalition, the College has been recognized as a "Voter Friendly Campus" and selected for a lead role in the "Ask Every Student" project. 
Canales served as a 2020 Democracy Fellow at Tri-C with the Fair Election Center's Campus Vote Project. His work helped the College gain national attention in the area of student civic engagement. 
He also serves on the executive committee of the Mid-East Honors Association, which represents honors programs at colleges and universities in a six-state region.  
Canales, of Parma, is a Jack, Joseph and Morton Mandel Scholar at Tri-C. He is scheduled to graduate from the College this year with two degrees — an Associate of Arts and an Associate of Science.
February 15, 2021
John Horton, 216-987-4281 john.horton@tri-c.edu