Tri-C Student Makes 'Ear Guards' for Mask-Wearing Workers
Paul Blazek uses 3D printer to help those on the front lines of the COVID-19 outbreak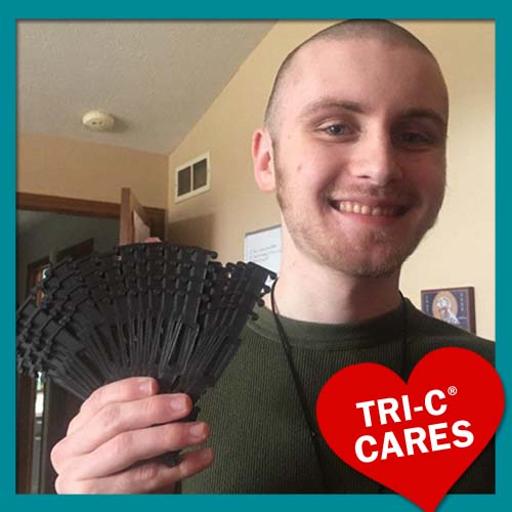 Cuyahoga Community College (Tri-C®) student Paul Blazek starts his 3D printer each morning with one goal in mind: Help those working on the front lines of the COVID-19 pandemic.
Blazek has been making "ear guards" that prevent chafing from the elastic straps that hold face masks in place. Workers in health care and other fields have had the backs of their ears rubbed raw after wearing masks for hours on end.
The notched plastic strip made by Blazek wraps around the back of a person's head. When wearing a mask, the elastic straps loop around the notches on the strip. This holds the mask in place without rubbing against ears.
Blazek — who is in Tri-C's information technology program — found the design on thingiverse.com, an open-source 3D printing community. He joins a legion of people across the country making ear guards.
"I wanted to do something to help, and this seemed like a way to really make a difference for people working during the outbreak," Blazek said. "I figured I'd print some up and see if anyone wanted them."
So far, Blazek has produced nearly 100 ear guards. (It takes him about 45 minutes to make each strip.) He recently dropped off a batch for caregivers at Southwest General Health Center in Middleburg Heights.
Blazek is set to graduate from Tri-C this summer with an Associate of Applied Business degree in IT programming and development. He's also set to earn a certificate in web application development.
The 18-year-old from Brunswick is an Honors Program Fellow at the College.
April 15, 2020
John Horton, 216-987-4281 john.horton@tri-c.edu