Tri-C Student Honored in North American Art Competition
Faith Cogar claims third-place award for ceramic piece that delivers "emotional impact"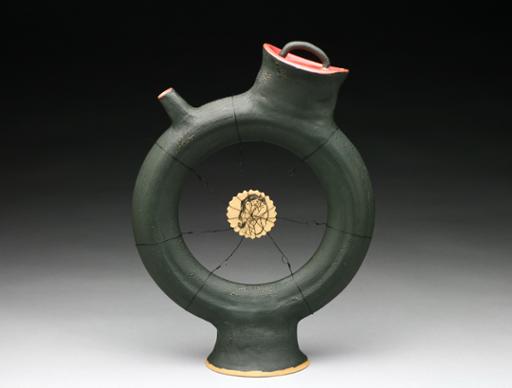 An award-winning ceramic piece created by Cuyahoga Community College (Tri-C®) student Faith Cogar stands 14 inches tall and measures 11 inches wide. Its meaning, however, is much larger. 
The stoneware piece, titled "Panic Room," represents the woes of self-doubt and anxiety. Cogar described it as "a visual representation of this state of mind we can trap ourselves in." 
Jurors awarded the piece third place in the 34th annual League for Innovation in the Community College Student Art Competition. The competition highlights the best work by community college students from across North America. 
In reaching their decision, jurors lauded the "creativity and uniqueness" of Cogar's work and noted its emotional impact. The piece was inspired by the 2018 song "Panic Room" by Au/Ra. 
Cogar earned an Associate of Arts degree from Tri-C in May, when she graduated with honors. She continued her studies at the College this fall while working toward a second degree focused on American Sign Language. 
The Cleveland resident created her award-winning art piece in a Ceramics II class at Western Campus. She was among five Tri-C students selected to have their work showcased in the competition. 
Cogar is the second Tri-C student since 2018 to have their work honored at the competition. April Graham won a juror's choice award in the 32nd annual competition for a charcoal-on-paper drawing. Graham also graduated from Tri-C with honors in May.
November 03, 2020
John Horton, 216-987-4281 john.horton@tri-c.edu