Tri-C Student Featured in Online Art Exhibit Reflecting on COVID-19
Drawing and painting by Duane L. Dickson selected for Ursuline College show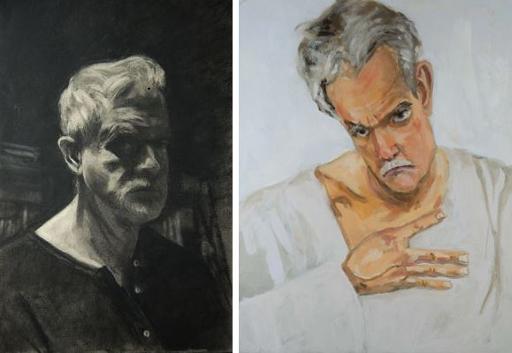 An online exhibition that examines the COVID-19 pandemic through the eyes of artists features two works by Cuyahoga Community College (Tri-C®) student Duane L. Dickson.
A drawing and painting by Dickson are among more than 100 works currently featured in the Florence O'Donnell Wasmer Virtual Gallery by Ursuline College. The online exhibit ― Self Portraits: Artists Respond to COVID-19 ― runs through May 22.
Dickson's contributions include a drawing titled "Dark Times" and a painting titled "A Tribute to Egon and the Other Victims of Pandemics." He created both during spring semester courses at Tri-C.
The gallery launched the online show to increase public engagement and accessibility to art during the current coronavirus crisis. The show was open to emerging and professional artists across the United States. Click here to view the full exhibit.
Dickson, who lives in Cleveland Heights, also recently had a painting selected for the 2019-2020 League for Innovation in the Community College Student Art Competition.
May 15, 2020
John Horton, 216-987-4281 john.horton@tri-c.edu