Tri-C Softball Players Reflect on Lost Season
Cancellation due to COVID-19 upends chance for return trip to national tournament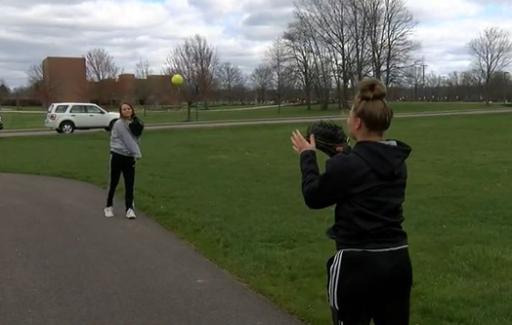 Cuyahoga Community College (Tri-C®) softball players Cassandra Fendrick and Breanna Musick expected to be making a charge toward the NJCAA National Championship tournament right about now.
Instead, the roommates often play catch while wondering what could have been.
The COVID-19 pandemic led to the cancellation of all NJCAA spring sports, ending what looked to be a promising season for the Triceratops. Tri-C opened with a 10-2 record during their spring break trip.
The strong start built on momentum established last year, when they won the district title and earned a spot at the national tournament for the third time in school history.
Fendrick and Musick recently spoke with 19 News sports reporter Mark Schwab about the sudden and disappointing end to the season. Their focus now is on returning to the field in 2021 to meet their goals. (The NJCAA granted players an extra year of eligibility.)
Head coach Bryan Komlos said Tri-C earned an invitation to open next season at the National Fastpitch Coaches Association's Leadoff Classic, which gathers top teams from around the nation.
"Work harder and push forward, and I think next year we will come out even stronger," Fendrick told Schwab.
Click here to view the 19 News segment.
April 21, 2020
John Horton, 216-987-4281 john.horton@tri-c.edu