Tri-C President Alex Johnson to Chair Achieving the Dream Board
Leadership role in national organization begins Feb. 24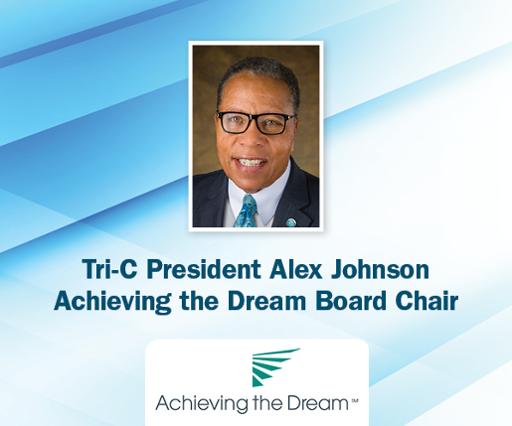 Cuyahoga Community College (Tri-C®) President Alex Johnson is taking a lead role in national efforts to close equity gaps and accelerate student success as the new chair of the Achieving the Dream (ATD) board of directors. 
ATD leads a network of more than 300 community colleges committed to helping students — particularly low-income students and students of color — meet their academic, career and personal goals. 
The nonprofit organization reaches more than 4 million students while working with colleges across the country to advance its comprehensive reform movement for student success. 
"From an organization focused on individual students to one concerned with the success of all students through pronounced faculty engagement and whole-college transformation, ATD's evolution has been nothing short of miraculous," Johnson said. "I look forward to working with the outstanding leaders who serve on the Board of Directors and to helping move the organization forward." 
Johnson has served as Tri-C president since 2013 and reshaped the student experience with a strong focus on access, equity and success. Graduation rates and totals have reached record numbers and continue to climb under his guidance.  
In 2019, ATD named Tri-C a Leader College of Distinction for achieving higher student outcomes and narrowing equity gaps. It is the highest designation offered to colleges in the ATD network. 
Johnson's new leadership role with ATD expands his work on a national level. He recently completed a one-year term as chair of the American Association of Community Colleges board of directors. 
In addition, he serves on the board for League for Innovation in the Community College, the President's Advisory Committee of Phi Theta Kappa Honor Society, and on a national panel evaluating career and technical education programs for the U.S. Secretary of Education. 
Johnson's term as ATD board chair begins Feb. 24. He succeeds Pam Eddinger, president of Bunker Hill Community College in Massachusetts.
February 19, 2021
John Horton, 216-987-4281 john.horton@tri-c.edu