Tri-C President Alex Johnson Co-Chairs Cleveland Heritage Medal Committee
Nomination process now open for Greater Cleveland's highest civilian award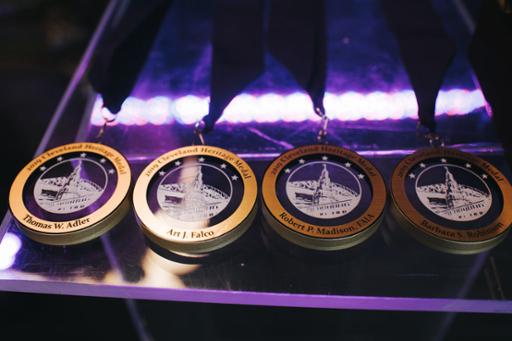 Cuyahoga Community College (Tri-C®) President Alex Johnson is serving as co-chair of the 2020 Cleveland Heritage Medal Committee, which recognizes those who have made meritorious contributions to Cleveland and its citizens.
The Cleveland Heritage Medal was established in 2016 as the highest civilian award in Greater Cleveland. Modeled after the Presidential Medal of Freedom, it honors individuals representing the core values of service to others, teamwork, courage, respect, and inclusion and diversity.
For the first time in its history, the committee is accepting nominations from the public at heritagemedal.com. Nominations are being accepted online through Sunday, March 22.
All submissions will be presented to members of the Cleveland Heritage Medal Committee in April. The final selection of 2020 recipients will take place later this spring, with an announcement scheduled in early July.
Johnson is co-chairing the committee with Cleveland Mayor Frank G. Jackson and Akram Boutros, president and CEO of The MetroHealth System.
Previous Cleveland Heritage Medal recipients are as follows:
2016: Morton L. Mandel, the Rev. Otis Moss Jr., Sandra Pianalto, Richard W. Pogue and Sen. George V. Voinovich
2017: Carole F. Hoover, Samuel H. Miller, Albert B. Ratner and Michael R. White                        
2018: Toby Cosgrove, Robert D. Gries, Steven A. Minter and Tri-C President Emeritus Jerry Sue Thornton
2019: Thomas W. Adler, Art J. Falco, Robert P. Madison and Barbara S. Robinson
More information about the Cleveland Heritage Medal and past recipients is available at heritagemedal.com.
February 17, 2020
John Horton, 216-987-4281 john.horton@tri-c.edu