Tri-C President Alex Johnson Announces Upcoming Retirement
College will conduct national search for next president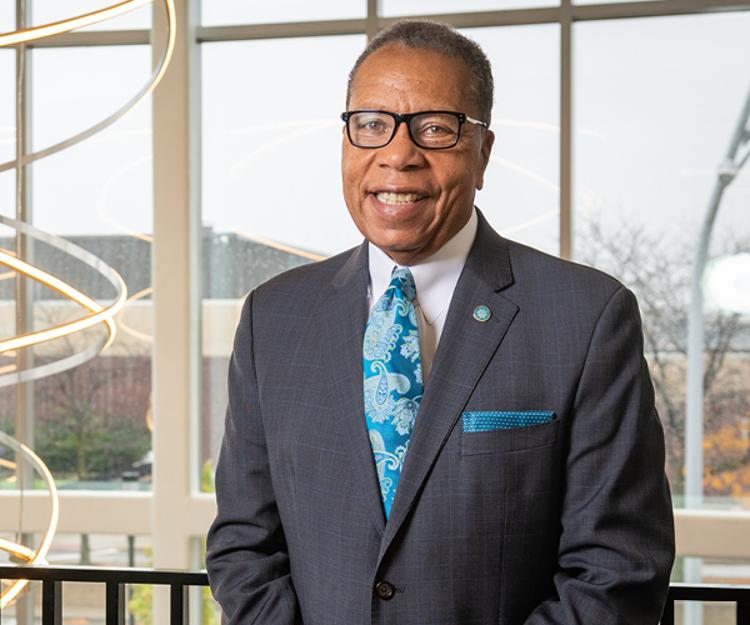 After nearly a decade of leadership, Cuyahoga Community College (Tri-C®) President Alex Johnson is announcing his retirement, effective June 30, 2022. Tri-C students, faculty and staff were informed of Johnson's decision in a virtual town hall meeting Oct.13.

"This is a difficult decision because I love Tri-C, believe wholeheartedly in its mission and have had the privilege of working alongside so many amazing people in the eight years I've led the College," Johnson said prior to the town hall. "But the time is right to let new leadership take the reins and build upon what we've accomplished. And we've accomplished so much."

Johnson took office in July 2013 as the College's fourth full-time president. Under his leadership, Tri-C renewed its commitment to providing educational access throughout Northeast Ohio. He oversaw an era of increasing graduation rates and numbers at the College, the result of new investments in workforce training, capital improvements and programs serving those in low-income and distressed areas.

"Alex Johnson has made an indelible mark on Tri-C and the Cleveland community," said Tri-C Board Chair Helen Forbes Fields. "As a result of his extraordinary leadership, the College has thrived and today is considered a vanguard institution among community colleges nationwide. I speak on behalf of the entire Board of Trustees and the College community when I say how much we will miss his passion and commitment to Tri-C's mission and students."

Under Johnson's leadership, Tri-C's Nursing, Creative Arts, Public Safety, Hospitality Management, Information Technology and Manufacturing programs were reorganized into the Tri-C Centers of Excellence. Each Center of Excellence provides training and pathways for students entering some of the most in-demand career fields.

He also oversaw a large-scale construction and development plan for the College's campuses, the result of a $227 million capital bond issue passed in 2017. Projects funded by the bond money include the Western Campus STEM Center, the Westshore Campus Liberal Arts and Technology building, the Public Safety Simulated Scenario Village at the Western Campus, and an addition to the Advanced Technology Training Center at the Metropolitan Campus. All four projects received LEED certification for sustainable design and construction. 

Johnson piloted the College through both prosperous and challenging times. In March 2020,
Tri-C was thrust into the COVID-19 pandemic along with the rest of the country, forcing major alterations to its business and educational operations almost immediately. The College quickly scaled its technological capacity to pivot to an online learning and working environment.

As students, faculty and staff adjusted to remote classes and workdays, Johnson kept the College apprised of the ever-evolving situation through weekly virtual town halls that continued throughout much of 2020.

As 2021 progressed, Johnson championed vaccinations for all members of the Tri-C community, helping to spearhead community partnerships for on- and off-campus COVID-19 vaccination and testing clinics. As of Fall 2021, approximately half of classes are now on-site, and the College has moved to a mixed remote/on-site work schedule.

"One of the most enduring memories I'll take with me is how we rallied to support one another and the College's mission despite the difficulties created by the pandemic," Johnson said. "I saw great inner strength and resolve from our students, faculty and staff that continues to this day. I've always been proud of Tri-C, but I've never been prouder of the Tri-C family than I have been during the pandemic."

Johnson's tenure as Tri-C president has been the culmination of a 40-year career in higher education. Prior to leading Tri-C, Johnson served as president of the Community College of Allegheny County in Pittsburgh (2008-2013) and chancellor of Delgado Community College in New Orleans (2004-2008). He also previously served as president of Tri-C's Metropolitan Campus (1993-2003).

These experiences inspired him to author two books on leadership: Change the Lapel Pin (2018) and Capturing Change (2021).

A committee chaired by Tri-C trustee Victor Ruiz will oversee a national search for Johnson's replacement. The committee will also include trustees Ann Frangos, Phoebe Lee and Andrew Randall.

The search will be conducted by a national search firm, with the aim of hiring a new College president next spring. Further details on the search will be made available as it progresses at tri-c.edu/presidentsearch.
October 13, 2021
Erik Cassano, 216-987-3577 or erik.cassano@tri-c.edu