Tri-C Phi Theta Kappa Honor Society Campaign Helps the Homeless
Online T-shirt sale raises funds for Northeast Ohio Coalition for the Homeless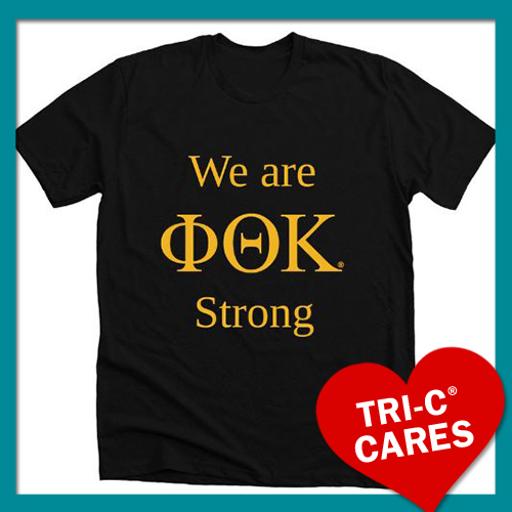 Phi Theta Kappa (PTK) Honor Society members at Cuyahoga Community College (Tri-C®) hope to use the strength of their organization to boost COVID-19 relief efforts by the Northeast Ohio Coalition for the Homeless.
Money earned through a T-shirt sale organized by the honor society's Alpha Epsilon Eta chapter at Eastern Campus will benefit the nonprofit organization as it works to help Northeast Ohio's homeless population.
The shirts feature the message "We are ΦΘΚ Strong" using the Greek letters that serve as the honor society's name.
Kristen Lundeen, treasurer of the Eastern Campus PTK chapter, helped launch the fundraiser. She said it fits with the group's mission of action-oriented service to address problems within the community.
"We look for ways where we can make an impact," said Lundeen, who is set to graduate from Tri-C this spring with an Associate of Applied Business degree in accounting. "This is what PTK is about — being a leader in the community."
The campaign has sold 53 shirts (as of April 28) while raising $366 for Northeast Ohio Coalition for the Homeless. The shirts cost $19.99 and can be purchased by clicking here.
PTK recognizes the academic achievement of community college students and provides opportunities for its members to grow as scholars and leaders. Chapters can be found on almost 1,300 community college campuses in 11 nations.
More than 3.5 million students have been inducted into PTK since 1918, with approximately 250,000 active members.
Learn more about the Phi Theta Kappa Honor Society at Tri-C.
April 28, 2020
John Horton, 216-987-4281 john.horton@tri-c.edu