Tri-C Offers Options for Saving on Tuition
15+ Perks, 30 Credit Hour Standard among programs available to eligible students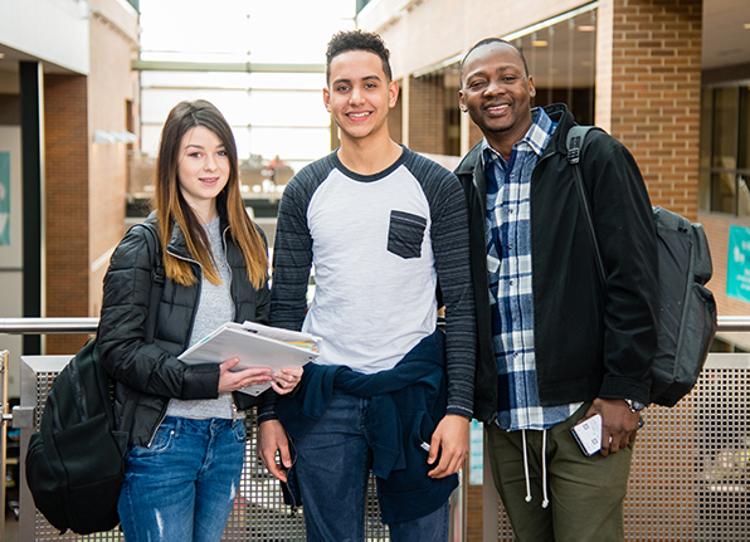 Carrying a full-time course load is hard work, no matter the area of study. Each semester, thousands of Cuyahoga Community College students do exactly that, registering for 12 credit hours, 15 credit hours and sometimes more.
In 2011, Tri-C began introducing programs that recognize the work of committed students, offering tuition incentives for students carrying a full-time course load while maintaining an acceptable GPA. The College now offers three tuition incentive programs to qualified students: 15+ Perks, 30 Credit Hour Standard and Tuition Guarantee.
Here is a brief look at each program, along with information on eligibility requirements and how to apply.
15+ Perks
Students who take more credits are more likely to succeed in their studies and ultimately graduate. With that in mind, the 15+ Perks Program is designed to encourage students to take more credits each semester.
The 15+ Perks Program offers students taking at least 15 credit hours in a semester the opportunity to receive a refund on 50 percent of their tuition above 12 credit hours.
"It's the only tuition incentive program at Tri-C that offers the chance to put money directly back in your pocket," said Heidi Nicholas, the College's director of enrollment management.
To apply for the program, students taking at least 15 credit hours (seven credit hours during summer term), must carry a minimum 2.0 GPA across all courses and have either passed or tested beyond developmental math and English.
"You must also enroll full time the following semester to get the refund for the previous semester," Nicholas said. "It gives students more incentive to keep taking the 15 credit hour requirement each semester, which helps them graduate sooner."
Prior to applying for the program, students must complete a Free Application for Federal Student Aid (FAFSA) and have it on file with the College.
30 Credit Hour Standard
The 30 Credit Hour Standard provides eligible students with the chance to earn 50 percent off their summer tuition. To receive the waiver, students must apply to the program and, once accepted, complete 30 credit hours of coursework within a 12-month academic year, starting at the beginning of fall semester and continuing until the end of the following summer term.
"This program offers a little more flexibility than 15+ Perks," Nicholas said. "You can take developmental math and English while in 30 Credit Hour Standard, and you have the option to attend school part time, as long as you reach that 30 credit hour requirement in one academic year."
Only new or incoming transfer students can apply for the 30 Credit Hour Standard. Incoming transfer students must have fewer than 12 credit hours accumulated at a prior college. Once accepted, students can remain in the program for up to 90 credit hours earned.
As with 15+ Perks, students applying for the 30 Credit Hour Standard must complete a FAFSA for Tri-C.
Tuition Guarantee
Despite the recent tuition hike at colleges and universities statewide, Tri-C maintains the lowest tuition rate in the state. The Tuition Guarantee program helps maintain the affordability of a Tri-C education for full-time students.
Tuition Guarantee locks in the per-credit-hour tuition rate for new full-time students. The tuition rate is locked in for three years, as long as the student continues to carry a full-time course load each fall and spring semester.
No application is required. Students are automatically opted in to the program by registering to take at least 12 credit hours during fall semester 2018. However, a completed FAFSA is still required.
Taking Action
Application forms for 15+ Perks and 30 Credit Hour Standard are available on my Tri-C space. For additional information, visit the tuition incentive programs page on Tri-C's website.
"We want our students to know about these programs," Nicholas said. "So many students are eligible and don't know it. Take the time, fill out the forms and save some money. Your hard work has earned it — you should reap the benefits."
May 30, 2018
Erik Cassano, 216-987-3577 or erik.cassano@tri-c.edu