Tri-C Men's Basketball Finishes Regular Season Atop OCCAC
Challengers prepare for NJCAA Region XII tournament play this weekend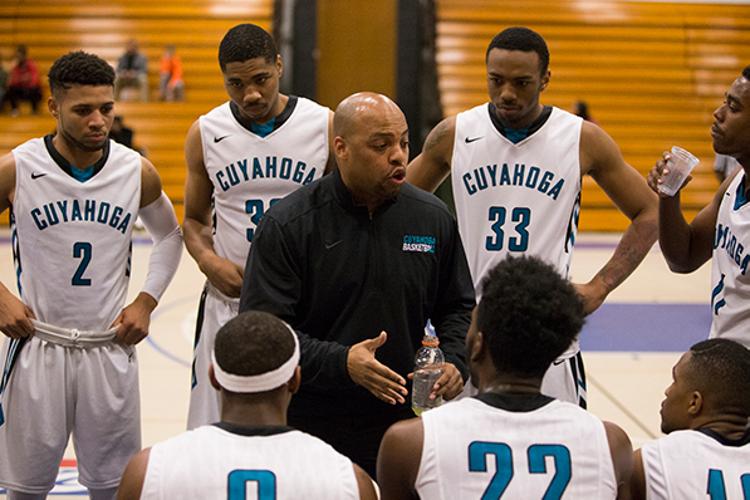 Despite several injury setbacks, the Cuyahoga Community College men's basketball team is sitting on a high perch as they head into the postseason.

The Challengers finished the 2017-2018 regular season atop the OCCAC and the NJCAA Division II national coaches' poll with a 27-1 record – their lone loss coming at Owens Community College on Jan. 31. That lone loss was sandwiched between winning streaks of 20 games and seven games, which came with two separate stints at No. 1 in the NJCAA Division II national coaches' poll.

"It is a good feeling to win the conference regular-season title," said Tri-C head coach Michael Duncan. "After going 28-3 last year, it was going to be hard to improve on that mark, but we did it."

But despite the stellar regular-season record, there is still plenty to keep the Challengers hungry and motivated as they head into the postseason.

Tri-C doesn't want a repeat of last season, in which their impressive regular season record was all but erased by Cincinnati State Community College. All three of the Challengers' losses last season came against Cincinnati State, the last one knocking Tri-C out of the Region XII tournament and ending their season.

"That's why we don't want to get too high with what we've done so far this year," Duncan said. "We have a lot more work to do if we want to get to our main goal of competing for a national championship. Our guys found out the hard way last year that winning the regular season doesn't mean a whole lot if you lose in the first weekend of the postseason."

On top of the lingering sting from last year, the Challengers have battled key injuries all season. Two of the team's sophomore leaders – Wade Lowman and Devon Robinson – have missed significant time, each with a broken wrist.

Lowman broke his wrist in early December, not returning until mid-February – a span of 13 games in which the Challengers were without his nearly 14 points and eight rebounds per game.

Just before Lowman returned, Robinson broke his wrist, missing the final six games of the regular season. Robinson, who has been the subject of several feature articles in recent weeks, took 12.1 points per game and 10.6 rebounds per game with him to the bench.

Duncan said there is a "very small chance" Robinson will be able to play in the Region XII tournament, but is planning as if Robinson will be unavailable.

"It was a slight fracture, no surgery needed," Duncan said. "It's just going to need time to heal."

Add up the missed games, and Tri-C hasn't had both Lowman and Robinson on the floor since a Dec. 2 win over Clark State Community College.
"We've done our best, but you can't replace what guys like Wade and Devon bring," Duncan said. "We've been missing key guys all year, which makes it harder to make adjustments. Other guys have to step up into new roles. It's just the old line about 'next man up,' but it's been tough."
Tri-C awaits the winner of the first-round matchup between Edison Community College and Lakeland Community College on Tuesday night. The winner will face the Challengers in second-round action Friday at Ohio Christian University in Circleville. Friday's winner will advance to the Region XII championship game on Saturday, playing for a berth in the NJCAA Division II national championship tournament.
"We're just trying to stay focused on the next game," Duncan said. "We want to make sure we don't overlook anyone or anything, and just stay locked in on the next opponent and what we need to do to beat them. That's all you can worry about when you get to this time of year."
March 05, 2018
Erik Cassano, 216-987-3577 or erik.cassano@tri-c.edu