Tri-C Makes Education a Family Experience
The College's Saturday Family Academy begins new six-week session March 3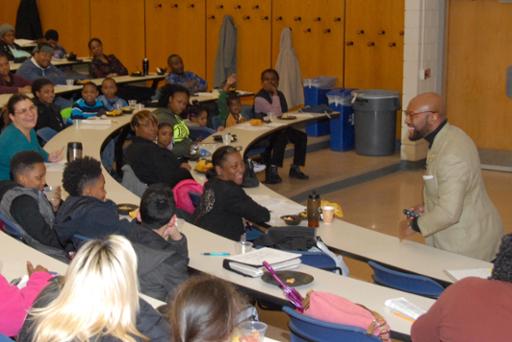 Cuyahoga Community College (Tri-C®) makes learning a family activity through its Saturday Family Academy, which launches a new six-week session March 3 at Metropolitan Campus.
The free program for parents and school-aged children offers a game plan for success in the classroom and in life. The objective is to better involve parents in the educational process to help them and their children achieve goals.
Discussion topics will include college readiness; career exploration and development; health and wellness; financial literacy; self-esteem and respect; and basic achievement principles.
There also will be grade-specific lessons and activities for children to develop language arts, literacy and math skills. For high school teens, the academy offers a free preparation course for the ACT college exam.
"Education can be a life-changing experience," said Tri-C's Kenneth Hale, who oversees the academy. "The Saturday Family Academy brings families together at the College to raise aspirations and put dreams within reach."
Classes run from 10 a.m. to 1 p.m. on six Saturdays between March 3 and April 14 in room 102 of the Liberal Arts building at Metro Campus. (No class will be held March 31.)
Registration is free and covers all six sessions. To sign up for the program, call 216-987-4949 or visit www.tri-c.edu/familyacademy. Advance registration is requested. Metro Campus is located at 2900 Community College Ave. in Cleveland.
Tri-C's Saturday Family Academy is sponsored by the city of Cleveland, Cleveland Public Library, the William J. and Dorothy K. O'Neill Foundation, the Winning in America program and ABC-123 Kids Express.
February 22, 2018
John Horton, 216-987-4281 john.horton@tri-c.edu