Tri-C's Linda Lanier Helps Students Cultivate Success
Metro Campus counselor uses her own experiences from college to guide a new generation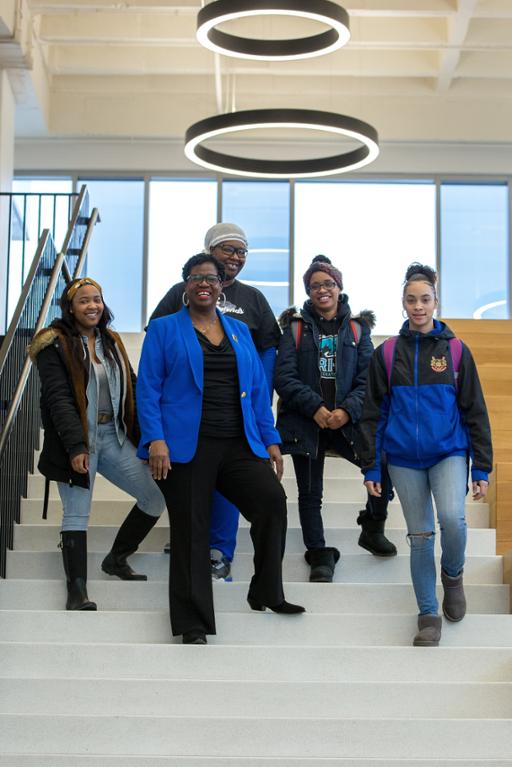 Linda Lanier loves people. It's evident in her welcoming smile; in the way she talks about students she has counseled, even years later. Students whose names she never forgets, whose faces appear in graduation photos tacked proudly to her office wall.
Her seemingly effortless ability to connect with others is what led Lanier, a former bank teller, to become a licensed social worker and counselor. What many don't realize is that, like many of her students, she needed help uncovering her true potential.
A wake-up call
Lanier enrolled at the University of Akron after graduating from East Cleveland's Shaw High School. The newfound freedom was invigorating — unfortunately, it also allowed studying to take a backseat to socializing.
"I didn't go to class because I was too busy watching people," she admits.
Lanier failed all but one of her courses, and the university prohibited her from re-enrolling. Spurred into action, the former honor student fought with all her might to get back in — a fight she eventually won.
With a renewed sense of purpose, Lanier switched her major from nursing to social work and joined a sorority. There, she met someone who would change her outlook on school and on life in general: her best friend, Kathie Slaughter.
As quiet and studious as Lanier was fun-loving and boisterous, Slaughter's sense of responsibility and knack for organization started to rub off once the two became roommates.
"Skipping class was no longer an option," Lanier said. "I'd ask her to go to a party with me, and she'd say, 'Sure, if you go to the library with me.' Being around her helped me concentrate and apply myself."
Success breeds success
Lanier shares this experience with many of the students who come to her office at the Metropolitan Campus Counseling Center.
"Your circle makes a difference," she tells them. "If your friends don't care about school, you won't either."
Students who get in with the right crowd have a much higher chance of success — a scenario Lanier has seen play out repeatedly.
Zeke's story is one of the most inspiring. A younger student from inner city Cleveland, he needed structure and discipline to thrive in college. After helping him ease into the routine during his first semester, Lanier proposed a more challenging schedule for his second.
"I told him, 'I need you to do this because if you have too much time, you're gonna go back to the streets,' " she said.
Zeke encountered Dave, a suburban dad in his 50s, in the campus library. Recently laid off, Dave was nervous about providing for his family and unsure of his decision to go back to school. The two men may have seemed an odd pair, but they struck up a friendship that led to study sessions and mutual encouragement.
Dave soon re-entered the workforce. Zeke, who had once celebrated C grades, became an A student.
"That, to me, is Tri-C," Lanier said. "There's such a rising-up here."
Expanding horizons
One group of students she is especially passionate about supporting in their rise to success is African American women and girls. To that end, Lanier spearheaded the Black Diamonds Initiative. It guides women of color toward well-paying careers that match their personal interests and strengths.
Too often, Lanier meets women who believe their only career choices are teaching or nursing. Through Black Diamonds, she aims to spread awareness of career options beyond these stereotypically feminine roles.
Now in its third year, the initiative comprises an annual two-day conference, a mini-conference and a variety of events focused on career development, educational opportunities, health and wellness, and financial empowerment.
"We have to expand what women see — what they know to be possible."
Lanier is currently working with a small group of colleagues to start 2Gen, an educational support program for mothers and daughters, at the College.
"Tri-C is perfect for 2Gen, because girls can take CCP [College Credit Plus] courses on campus while their moms get their GED or complete a certificate program," she said. "That's the biggest thing on my heart to do — to bring in the mothers and daughters."
You reap what you sow
Throughout her life and career, Lanier has learned that simply taking the time to be kind and to connect with another person can make all the difference.
Richard Neal, a staff member at the University of Akron, paid one third of Lanier's tuition out of his own pocket so that she could return to school. To this day, she remembers the exact amount: $289. Though she eventually repaid him, she still considers herself in his debt and has worked to pay that kindness forward ever since.
Without Neal, Lanier may never have realized her potential. And without Lanier, many Tri-C students might never realize theirs.
"He planted a seed in me," she said, "and it's still growing."
March 25, 2020
Beth Cieslik, 216-987-4538 beth.cieslik@tri-c.edu