Tri-C Leads Ashley Cammerata on Multiple Degree Paths
Two associate degrees set foundation to pursue advanced degrees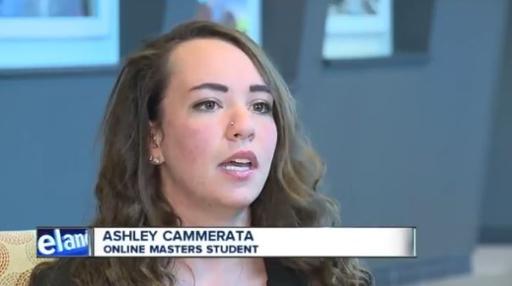 An associate degree, a bachelor's degree and a master's degree: Ashley Cammerata wants to earn them all, and she's working toward that goal with Cuyahoga Community College (Tri-C®).
News 5 Cleveland recently featured Cammerata — a Tri-C grad — on a segment highlighting professionals continuing their education at online schools. She is pursuing a master's degree in business administration at Western Governors University (WGU).
A partnership between Tri-C and WGU eases the transfer process for graduates who want to pursue more advanced degrees.
Cammerata earned two degrees at Tri-C — an Associate of Applied Business in 2017 and an Associate of Arts in 2018. Through her studies, she also received certificates in bookkeeping and payroll.
Earlier this year, she utilized a Tri-C partnership with Franklin University to get her bachelor's degree in accounting and forensic accounting.
WGU awarded Cammerata a $2,000 scholarship last week to put toward her tuition. The Grafton resident is balancing classes at WGU with her full-time job in Tri-C's business services office.
September 24, 2019
John Horton, 216-987-4281 john.horton@tri-c.edu