Tri-C JazzFest Teams With Virtual Shows CLE to Support Local Musicians
Series of virtual jazz performances begins April 26 with concert featuring Dan Wilson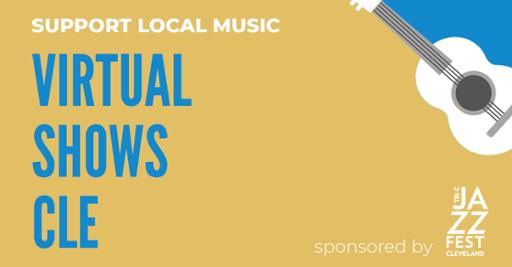 Cuyahoga Community College (Tri-C®) today announced a partnership between Tri-C JazzFest Cleveland and Virtual Shows CLE by Brite Winter to support a series of live online jazz concerts to benefit local musicians.
The virtual performances will be streamed free on Facebook Live by Virtual Shows CLE, with the series kicking off with jazz guitarist Dan Wilson at 8 p.m. Sunday, April 26. The launch coincides with Jazz Appreciation Month.
"We applaud Virtual Shows CLE and Brite Winter for providing this opportunity for local musicians," said Terri Pontremoli, director of Tri-C JazzFest. "We're happy to bring some jazz into the mix."
Over the past few years, Wilson has toured nationally and internationally with legendary jazz figures such as Christian McBride and Joey DeFrancesco. He received a Grammy nomination for his work on Project Freedom, a 2017 release by DeFrancesco and The People.
Last summer, Wilson recorded an album for Mack Avenue Records titled Vessels of Wood and Earth, which featured Jeff "Tain" Watts, Christian Sands, Marco Panascia and Joy Brown. The album is set for release this spring.
Future concerts in the Tri-C JazzFest series will be announced in the coming month. They will be woven into the Virtual Shows CLE schedule, which features two live shows a week. The performances offer musicians an opportunity to be paid.
Virtual Shows CLE recently formed to help Northeast Ohio's music community and keep music lovers entertained during these challenging times. The shows are being presented by the nonprofit organization behind Brite Winter music and art festival.
The College's partnership with Virtual Shows CLE follows the cancellation of the 2020  Tri-C JazzFest due to uncertainties created by COVID-19.
Planning is also underway by Tri-C JazzFest for a larger virtual concert later this summer featuring local musicians. Details will be announced at a later date. Visit tri-cjazzfest.com for more information.
Both initiatives expand on the College's commitment to bring arts and culture programming to the community, with Tri-C JazzFest rooted to its mission to educate and nurture the future of jazz.
April 24, 2020
John Horton, 216-987-4281 john.horton@tri-c.edu