Tri-C JazzFest Offering Special Deal on Festival Passes
Cost is just $200 from Dec. 10 through Jan. 23 to celebrate festival's 40th anniversary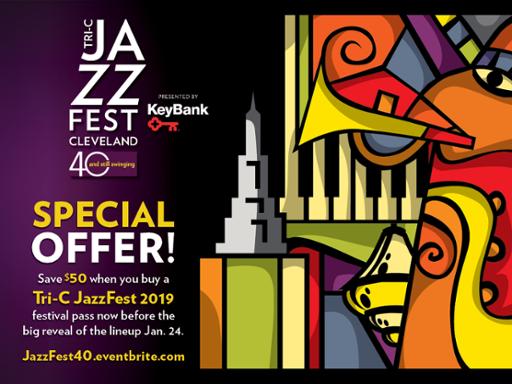 This summer's 40th anniversary of Tri-C JazzFest Cleveland, presented by KeyBank, promises to be memorable. Guarantee yourself VIP seating at every show — and save some cash — by purchasing a full festival pass by Jan. 23.
Cuyahoga Community College (Tri-C®) will open sales today — Monday, Dec. 10 — on a special $200 festival pass. The pass includes VIP seating to all nine ticketed concerts, an invite to the opening night party and other perks and discounts.
To purchase a festival pass, visit jazzfest40.eventbrite.com.
The 40th anniversary deal ends the day before the big reveal of the 2019 lineup on Thursday, Jan. 24, at Nighttown in Cleveland Heights. The special price rewards JazzFest fans who know and trust the artistic integrity of the festival.
The cost will rise to $250 on Jan. 24. Passes are valued at $450.
This year's festival — taking place June 27-29 at Playhouse Square — will celebrate Cleveland's contributions to jazz over the decades while presenting a mix of iconic and emerging artists.
"The regular pass price is already a bargain at $250," said Terri Pontremoli, festival director. "And we can assure everyone that the lineup will be great. Plus, festival passes make great holiday gifts."
As a summer destination event, JazzFest draws tens of thousands of people downtown for a three-day music extravaganza. For more details, visit www.tri-cjazzfest.com.
Tri-C JazzFest Cleveland is presented by KeyBank and made possible by Cuyahoga Community College, the National Endowment for the Arts, the Ohio Arts Council, Strassman Insurance Services Inc. and a growing list of donors and members.
December 10, 2018
John Horton, 216-987-4281 john.horton@tri-c.edu