Tri-C JazzFest Celebrates 40th Anniversary with 'Flying Home' Series
Series features artists whose formative training took place at Tri-C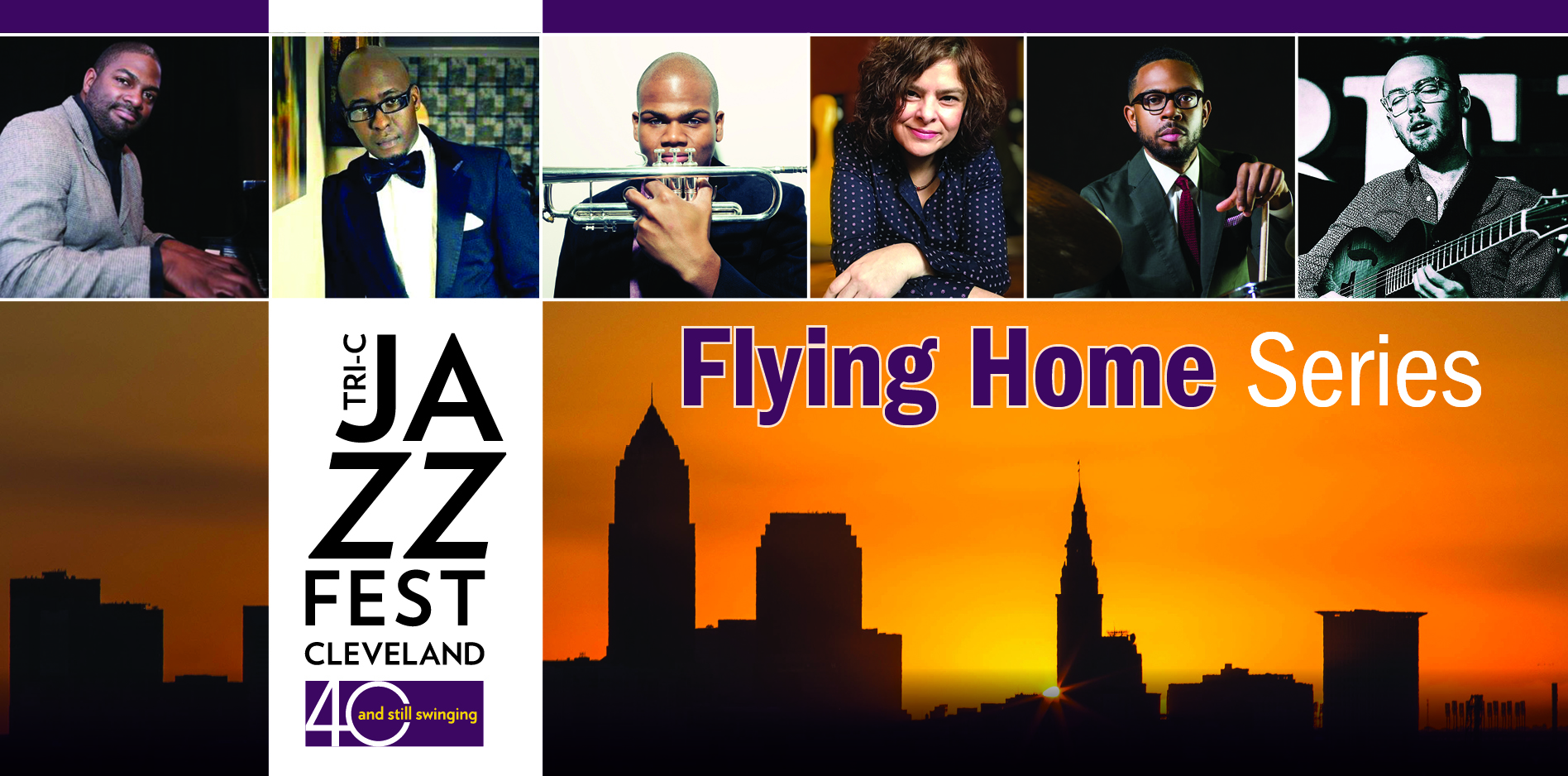 In celebration of the 40th anniversary of Tri-C JazzFest Cleveland, Cuyahoga Community College (Tri-C®) is presenting a special concert series featuring former Tri-C students now making their mark as jazz performers across the United States.
The Flying Home series, sponsored in large part by the George Gund Foundation, will take place at various Northeast Ohio locations between October and June. Sites include Nighttown, Bop Stop at The Music Settlement, East Cleveland Public Library and Karamu House.
"Flying Home gives us an opportunity to celebrate our 40th anniversary and Tri-C's long history as a serious training ground for jazz," said Terri Pontremoli, festival director. "We have watched generations of talented musicians grow and blossom here, and we're really proud."
The series takes its name from "Flying Home," a jazz composition written by Benny Goodman and Lionel Hampton. The song was recorded with a startling tenor saxophone solo performed by 19-year-old Illinois Jacquet.
It is in this spirit of youthful exuberance, homecoming and city pride that the concert series — co-curated by acclaimed jazz trumpeter Dominick Farinacci — will be presented.
Six former students will "fly home" to perform in the series. They represent a glimpse at the thousands of talented music students discovered, inspired and nurtured through JazzFest educational programs over the past four decades.
The schedule of performances, listed by date, is as follows:
Sunday, Oct. 14
Curtis Taylor Quartet — 7:30 p.m., Bop Stop at The Music Settlement
Tickets: $20/www.themusicsettlement.org
Trumpeter Curtis Taylor attended Tri-C from 1999 to 2003. He completed a bachelor's degree in jazz studies at Michigan State University and a master's degree at Rutgers University. He has performed with Cyrus Chestnut at the Kennedy Center for NPR's JazzSet and toured internationally with James Carter. Taylor can be heard on Gregory Porter's 2014 Grammy-winning album Liquid Spirit.
Friday, Nov. 9
Phillip Jones — 8:30 p.m., Nighttown
Tickets: $10/www.nighttowncleveland.com
Pianist, drummer and organist Phillip Jones attended Tri-C between 2001 and 2003. He received a bachelor's degree in music from Oberlin Conservatory of Music and a master's degree from Cleveland State University. He is currently a working musician in Houston, Texas.
Sunday, Feb. 17
Jerome Jennings — 4 p.m., East Cleveland Public Library
FREE
Drummer Jerome Jennings attended Tri-C from 1999 to 2003. He graduated from Rutgers University and earned a master's degree from The Juilliard School, where he serves as resident director of The Juilliard Jazz Orchestra. In addition to leading his own sextet, he performs with the Christian McBride Big Band and Christian Sands Trio. His 2016 debut, The Beast, was named a Top Three jazz release by NPR.
Saturday, March 9
Lucas Kadish — 7:30 p.m., Bop Stop at The Music Settlement
Tickets: $20 (Sales to begin at a later date)
After attending Tri-C between 2012 and 2014, guitarist Lucas Kadish graduated from the New School for Jazz in New York City before starting his own group, TUNDRA. He has performed with Les McCann, Jeff "Tain" Watts, Javon Jackson and Dominick Farinacci. With TUNDRA, he has played jazz festivals in Bern, Winnipeg and Montreux. Living in New York, he is regularly seen at Small's Jazz Club, JALC and Nublu.
Tuesday, April 30
Luca Mundaca — 7 p.m., Nighttown
Tickets: $15 (Sales to begin at a later date)
Brazilian Luca Mundaca is a guitarist, singer and songwriter who relocated to Cleveland in 2014 to study in Tri-C's Recording Arts and Technology program. She won the 2008 Independent Music Award in the World Fusion category. Her songs have been featured in films such as End of Watch (2013), The Visitor (2008) and Kissing Paris (2008), as well as in television series Mistresses (2013) and Californication (2008).
Monday, June 3
Walter Barnes — 6 p.m., Karamu House
FREE
One year after beginning his studies at Tri-C in 1998, bassist Walter Barnes Jr. began touring with national acts. He has recorded and performed with acts such as Yolanda Adams, the O'Jays and Kim Burrell while straddling the worlds of gospel and soul. He currently plays with Toni Braxton and Kenneth "Babyface" Edmonds. Barnes attended Berklee School of Music and Morgan State University.
The series leads up to the 2019 Tri-C JazzFest, which runs June 27-29 at Playhouse Square. The festival will celebrate Cleveland's musical history through legendary figures Tadd Dameron and Bobby Womack and the continuation of the jazz legacy forged through Tri-C students.
For more information on JazzFest or the Flying Home series, visit www.tri-cjazzfest.com.
Tri-C JazzFest Cleveland is made possible by Cuyahoga Community College, the National Endowment for the Arts, Ohio Arts Council and a growing list of donors and members.
October 04, 2018
John Horton, 216-987-4281 john.horton@tri-c.edu