Tri-C JazzFest Announces Lineup for Virtual Festival
More than a dozen local acts will perform Aug. 21-22 during livestreamed show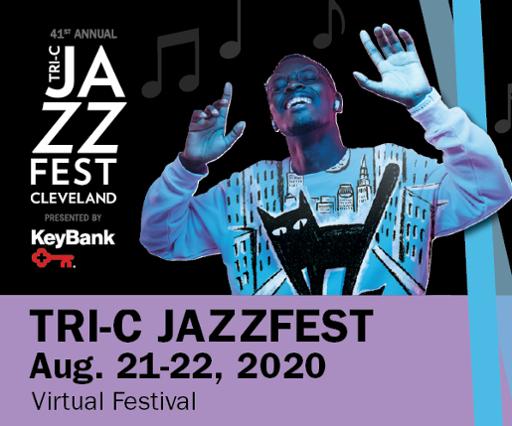 The best of Northeast Ohio's jazz talent will be livestreamed over two summer nights in a virtual edition of the 41st annual Tri-C JazzFest Cleveland, presented by KeyBank.
More than a dozen acts in a lineup announced today promise to keep the music pumping during this free event Friday, Aug. 21 and Saturday, Aug. 22. The performances will begin 7 p.m. each night and run approximately 90 minutes on various online platforms.
The virtual festival will feature pre-recorded and live performances by the artists, as well as drop-in interviews with jazz icons and footage of memorable moments from past Tri-C JazzFests.
The goal is to put the depth and scope of Tri-C JazzFest on display while highlighting the festival's powerful influence on the Northeast Ohio jazz scene and impact on Cuyahoga Community College (Tri-C®) creative arts students.
"This virtual festival will share the compelling story of Tri-C JazzFest with music fans across the world," said Terri Pontremoli, the festival's director. "Once they hear these artists, they're going to know what jazz in Cleveland is all about."
The scheduled lineup of performers includes:
Chris Coles' Gleam: Saxophonist Chris Coles was awarded a Knight Foundation Arts Challenge Grant for his Nine Lives project, which is dedicated to the victims of the 2015 Charleston Church shooting. He'll perform with Dave Morgan (bass), Holbrook Riles III (percussion/electronics), Anthony Taddeo (percussion/electronics), Joey Skoch (piano), Zaire Darden (drums) and Tommy Lehman (trumpet).
Dan Wilson Trio: Over the past few years, Dan Wilson has toured nationally and internationally with legendary jazz figures such as Christian McBride and Joey DeFrancesco. He received a Grammy nomination for his work on Project Freedom, a 2017 release by DeFrancesco and The People. Zaire Darden (drums) and Kip Reed (bass) round out the trio.
Dominick Farinacci's Rhapsody in Blue: Revisited: Trumpeter Dominick Farinacci presents his commissioned arrangement of Rhapsody in Blue, George Gershwin's groundbreaking masterwork from 1924. He'll be joined by Jamey Haddad (percussion), Walter Barnes Jr. (bass), Jonathan Thomas (piano), Orlando Watson (spoken word) and Gabe Jones (drums).
Evelyn Wright Quartet: Vocalist Evelyn Wright – recipient of a 2008 Cleveland Jazz Legends Award – has opened for the likes of Mel Torme, Harry Belafonte and David "Fathead" Newman. She'll perform with Dave Thomas (B-3) Bill Ransom (drums) and Dominick Farinacci (trumpet).
Hubb's Groove: Drummer Robert Hubbard leads this all-star band mixing soul, jazz, R&B and a splash of gospel. His bandmates include Vencott Palmer (keys), Johnathan Jones (bass), Roger Maple (sax) and Stacey Richardson (vocals).
Jackie Warren: Pianist Jackie Warren – recipient of a 2018 Cleveland Jazz Legends Award – has performed locally and nationally as a soloist and with groups such as the Jackie Warren Trio, DIVA Jazz Orchestra and the powerhouse 3Divas.
Eddie Baccus Sr. Quartet: Eddie Baccus Sr. — known for his "chatty" organ style — is a 1999 Cleveland Jazz Legend Award winner and master of the B-3. He'll be performing with Robert Curry (guitar), Perry Williams III (drums) and Cecil Rucker (vibes).
Joe Hunter: Pianist Joe Hunter – recipient of a 2019 Cleveland Jazz Legends Award – has been recognized by the rock world for his keyboard mastery. Known for his passion for Brazilian music, he has played as a solo artist and with various bands since the '80s.
Lafayette Carthon: Pianist, educator and songwriter Lafayette Carthon has production credits on projects with Michael Jackson, Celine Dion and Marvin Winans, to name a few. Carthon — who many know as senior pastor of Faith Church of Glenville — will be joined by vocalist Will Blaze.
Sammy DeLeon's Latin Jazz Sextet: Percussionist Sammy DeLeon — recipient of a 2016 Cleveland Jazz Legends Award — has performed with some of the world's greatest Latin musicians and always rocks the stage.
Tri-C's Spirit of the Groove: Spirit of the Groove is an all-star ensemble from the Tri-C JazzFest Academy. It is comprised of nine young artists from various Northeast Ohio high schools who are committed to pursuing jazz full-time in college.
Vanessa Rubin: Jazz vocalist Vanessa Rubin – recipient of a 2015 Cleveland Jazz Legends Award – is a product of Betty Carter's Jazz Ahead program at The Kennedy Center and has been a national touring artist for three decades. She will be joined by Jackie Warren (piano), Reggie Jackson (drums) and Peter Dominguez (bass).
Walter Barnes Jr. & Friends: Bassist Walter Barnes Jr. has recorded and performed with acts such as Yolanda Adams, The O'Jays and Kim Burrell while straddling the worlds of gospel and soul. He currently plays with Toni Braxton and Kenneth "Babyface" Edmonds. He will be joined by Gabe Jones (drums), Bryan Golden (piano/keys), Jordan Wright (keys) and Willie Ross (guitar). 
Dan Bruce's :beta collective: This modern jazz ensemble led by guitarist/composer Dan Bruce performs original compositions with a flair for musical improvisation.
FORECAST: This native Cleveland contemporary jazz band performs a musical blend of instrumental jazz, funk, rock, reggae and pop. The band is composed of Lem Adams (vibes), Russ Thompson (sax), Alphonso McDuffie (keys), Gary Stevenson (bass) and John Turner (drums).
Aside from performing, Farinacci will co-host the virtual festival with Pontremoli. His path to becoming an international recording artist began in the classrooms of Tri-C two decades ago.
Click here to register for the online festival and visit tri-cjazzfest.com for more information.
The virtual event will be free, though viewers will have the opportunity to donate to Tri-C's Student Emergency Fund. Money raised will specifically benefit creative arts students experiencing unforeseen financial challenges with the potential to derail their studies.
Tri-C JazzFest turned to the online format after restrictions related to the COVID-19 outbreak forced a change in plans. The traditional festival typically draws tens of thousands of music lovers to Cleveland's Playhouse Square.
The virtual Tri-C JazzFest Cleveland is presented by KeyBank and made possible by Cuyahoga Community College, the National Endowment for the Arts, the Ohio Arts Council, Strassman Insurance Services Inc., The George Gund Foundation and a growing list of donors and vendors.
June 18, 2020
John Horton, 216-987-4281 john.horton@tri-c.edu